Construction progressing on Pulaski County Sheltered Workshop renovations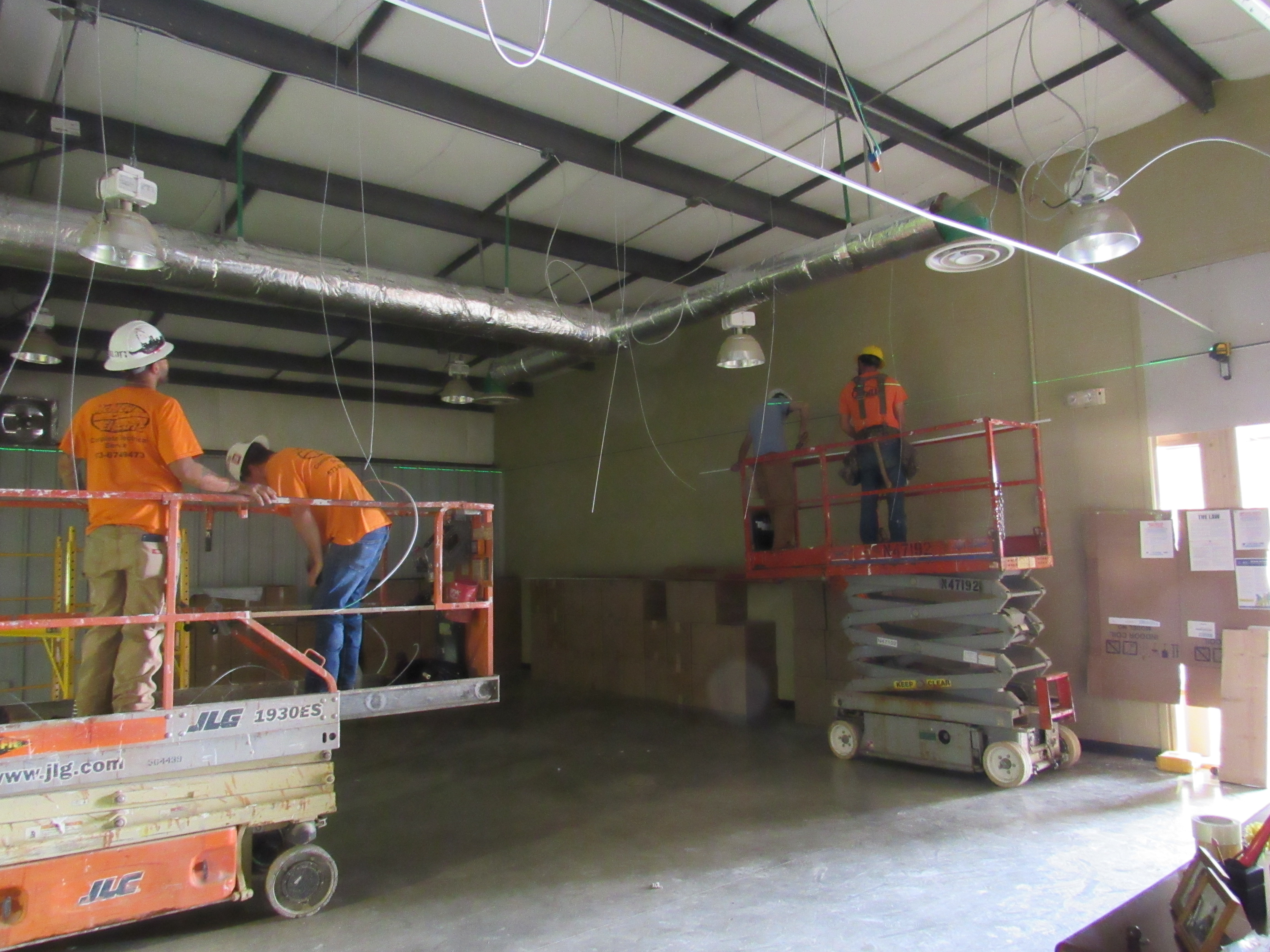 For immediate release

For more information, contact
Gary O'Day
RICHLAND—Renovations to the Pulaski County Sheltered Workshop are progressing with the assistance of a Community Development Block Grant (CDBG) through the Missouri Department of Economic Development. Cahills Construction Inc. of Rolla began construction in Mid-May 2019.
Pulaski County was awarded a the CDBG grant on behalf of the Pulaski County Sheltered Workshop to renovate the facility located at 3 Industrial Drive in Richland. Lacie Karr, the general manager at the Pulaski County Sheltered Workshop, said in a previous interview the grant will allow for making the facility less institutionalized and more inviting for their employees.
Renovations include replacing the current HVAC system with an energy efficient model, installing a drop ceiling in the work area with installation of energy efficient lighting and a security system, removal of unnecessary openings in the exterior, adding insulated panels to the roof and exterior wall, installing new exterior doors including power operated ADA switches and a rapid door at the loading dock and remodeling the restrooms for ADA accessibility. The total cost of the project is expected to be $363,714. The CDBG will pay $350,000 in construction and administration on the project. The remainder will come from $8,000 in cash and in-kind work.
MRPC prepared the successful grant application and is providing grant administration services on the project.
The CDBG program is a flexible program that provides communities with resources to address a wide range of unique community development needs. Beginning in 1974, the CDBG program is on of the longest continuously run programs at the U.S. Department of Housing and Urban Development (HUD). The Missouri Department of Economic Development handles Missouri's allocation of CDBG funds and offers them in a competitive basis to cities, counties and other qualifying entities outside entitlement areas, that receive direct CDBG funds.
Formed in 1969, MRPC is a voluntary council of governments serving Crawford, Dent, Gasconade, Maries, Osage, Phelps, Pulaski and Washington counties and their respective cities. Gasconade County Presiding Commissioner Larry Miskel serves as chairman of the board. A professional staff of 25 offers technical assistance and services, such as grant preparation and administration, housing assistance, transportation planning, environmental planning, ordinance codification, business loans and other services to member communities.
To keep up with the latest MRPC news and events, visit the MRPC website at www.meramecregion.orgor on Facebook at www.facebook.com/meramecregion/.
-30-
Cutline: Crews with Cahills Construction prepare to install a drop ceiling in the Pulaski County Sheltered Workshop at Richland.