Transportation Alternatives Program funds three sidewalk projects in Meramec Region
For immediate release

For more information, contact
Bonnie Prigge or Kelly Sink-Blair at (573) 265-2993
ST. JAMES—The Missouri Department of Transportation (MoDOT) announced funding for projects in Belle, Salem and Rolla through the Transportation Alternatives Program (TAP). All three projects focus on sidewalks leading to or near school campuses.
TAP is a federally funded program with the goal of expanding transportation choices and enhancing the transportation experience through categories of activities related to the surface transportation system. Funded through the FAST Act, TAP focuses on non-motorized transportation projects with an emphasis on bike and pedestrian facilities.  MoDOT received 91 applications for a total request of almost $22 million; 36 projects were funded, totaling approximately $7.6 million. TAP grants will fund up to 80 percent of a project with the remaining 20 percent coming from the applicant.
Belle and Salem received full funding for their TAP grant requests, while Rolla received partial funding.
The city of Salem was awarded $284,680 for ADA compliant sidewalk connections between the Salem R-80 school campus, community center and city park. The project, estimated at a total cost of $355,850, will also include ADA accessible ramps with truncated domes, cross walks with warning devices, an accessible parking pad with signs, topsoil, tree removal, driveway work, curb/gutter repair and utility relocation.
The city of Belle was awarded $221,540 out of a total project cost of $276,925 for an ADA compliant sidewalk to allow for a continuous safe route along Johnson Street to the school. The sidewalk and gutter will be raised to solve the current issue of water pooling on the sidewalk, forcing individuals to walk in the street. Also included in the project will be a storm sewer pipe, sewer inlets and painted crosswalks.  The project will link the school to the city park, via the soon-to-be constructed Rock Island Trail.
The city of Rolla will receive $68,896, a portion of its original request for $163,232, for ADA improvements and sidewalk connectivity issues on the Missouri Science and Technology campus. The area has a high pedestrian and cycling population. The project will remove and replace 81 curb ramps, thus addressing increasing safety concerns.
These three projects were among six projects submitted from the Meramec Region. On Dec. 8, the MRPC Transportation Advisory Committee (TAC) evaluated TAP requests from Belle, Salem, Rolla, Potosi, Waynesville and St. James and ranked them. Belle and Salem were the top ranked projects by the MRPC TAC. A committee of MoDOT personnel and Central District planning partners then evaluated a total of 23 requests, including the six from the Meramec Region, three from the Mid-Missouri RPC, five from the Lake Ozark Council of Local Governments, five from the Columbia Area Transportation Study Organization (CATSO) and four from the Capital Area Metropolitan Planning Organization (CAMPO). MRPC Executive Director Bonnie Prigge represented MRPC on the Central District committee. Each MoDOT district made the formal decision on funded projects in its districts.
Formed in 1969, MRPC is a voluntary council of governments serving Crawford, Dent, Gasconade, Maries, Osage, Phelps, Pulaski and Washington counties and their respective cities. A professional staff of 25, directed by the MRPC board, offers technical assistance and services, such as grant preparation and administration, housing assistance, transportation planning, environmental planning, ordinance codification, business loans and other services to member communities.
To keep up with the latest MRPC news and events, visit the MRPC website at www.meramecregion.orgor on Facebook at www.facebook.com/meramecregion/.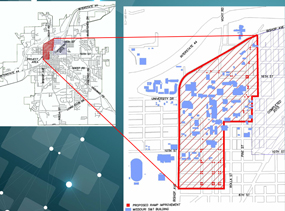 Maps from the presentation given to the MRPC Transportation Advisory Committee by the city of Rolla show the proposed work area of its Transportation Alternatives Program (TAP) grant application. The city of Rolla was funded $68,896 to remove and replace curb ramps, thus addressing increasing safety concerns.