Town and Country Bank honored as 2022 Lender of the Year at MRPC annual dinner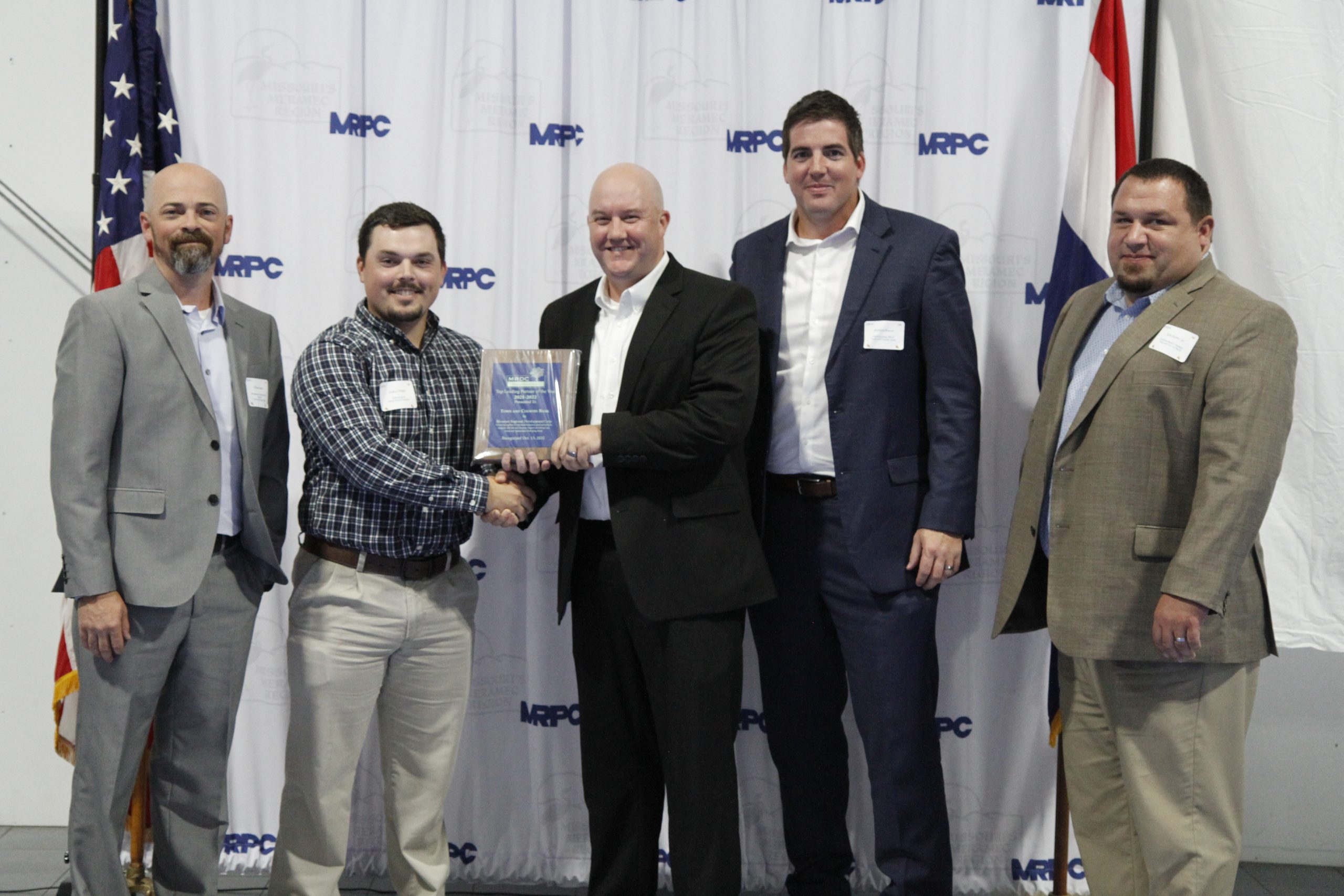 ST. JAMES—Town and Country Bank was honored as the 2022 Lenders of the Year by the Meramec Regional Development Corporation (MRDC) for its partnership efforts to bring jobs and private investment to the Meramec Region. Clifton Parker, manager of information systems; Brandon Licklider, St. James branch manager; Sheldon Shaver, chief lending officer and Kyle Hofstetter, Bourbon branch manager accepted the award on behalf of the bank. Dalton Nilges, president of MRDC, made the presentations at Meramec Regional Planning Commission's (MRPC) Annual Dinner Oct. 13 at the Knights of Columbus Hall in Vienna.
MRDC was able to collaborate with Town and Country Bank to help Frank and Lisa Barnitz to get the Rolla Farmers Exchange a working capital loan funded through MRPC's Revolving Loan Fund. The project will create up to 12 jobs in two years.
Town and Country Bank was chartered in 1894 as the Dent County Bank and was owned by the Dent family. The president of the bank was Louis Dent. The Gott family purchased the bank in 1993 and is the current owners. Roger Gott is the president and chairman of the board. Town and Country Bank provides a variety of lending services for personal, business, including agricultural lending, consumer loans and lines of credit. In addition, the bank offers insurance and investment services to its customers.
Town and Country Bank is a gold level associate member of MRPC. The bank actively participates and supports the communities it serves through athletic programs, area fundraisers. St. James Grape and Fall Festival, back-to-school shoe drive, School Supply Drive, county fairs, livestock fairs, visiting and reading for children at public libraries, local chapters of Future Farmers of America and business and professional clothing drives.
Town and Country has branches in Ava, Bourbon, Licking, Mountain Grove, Pevely, Rolla, Salem and St. James. The bank employs 165 people among the 10 branches it operates in the area.
MRDC, an SBA Certified Development Company, partners with local banks to provide gap financing with the SBA 504 program. MRDC also serves as a loan review board for MRPC – owned revolving loan funds. MRPC provides the staffing for MRDC.
For more information on MRPC's small business loans program, contact Maria Bancroft at 573-265-2993 ext. 114 or at mbancroft@meramecregion.org.
Formed in 1969, MRPC is a voluntary council of governments serving Crawford, Dent, Gasconade, Maries, Osage, Phelps, Pulaski and Washington counties and their respective cities. Steve Vogt is the chairman of the board. A professional staff of 36 offers technical assistance and services, such as grant preparation and administration, housing assistance, transportation planning, environmental planning, ordinance codification, business loans and other services to member communities.
To keep up with the latest MRPC news and events, visit the MRPC website at www.meramecregion.orgor on Facebook at www.facebook.com/meramecregion/.
-30-
Cutline: Dalton Nilges, MRDC president (second left), presented the 2022 Lender of the Year award to Town and Country Bank. Manager of Information Systems Clifton Parker (left), St. James Branch Manager Brandon Licklider, Chief Lending Officer Sheldon Shaver and Bourbon Branch Manager Kyle Hofstetter accepted the award on behalf of the bank.