Three outstanding community service awards for Maries County presented at MRPC Annual Dinner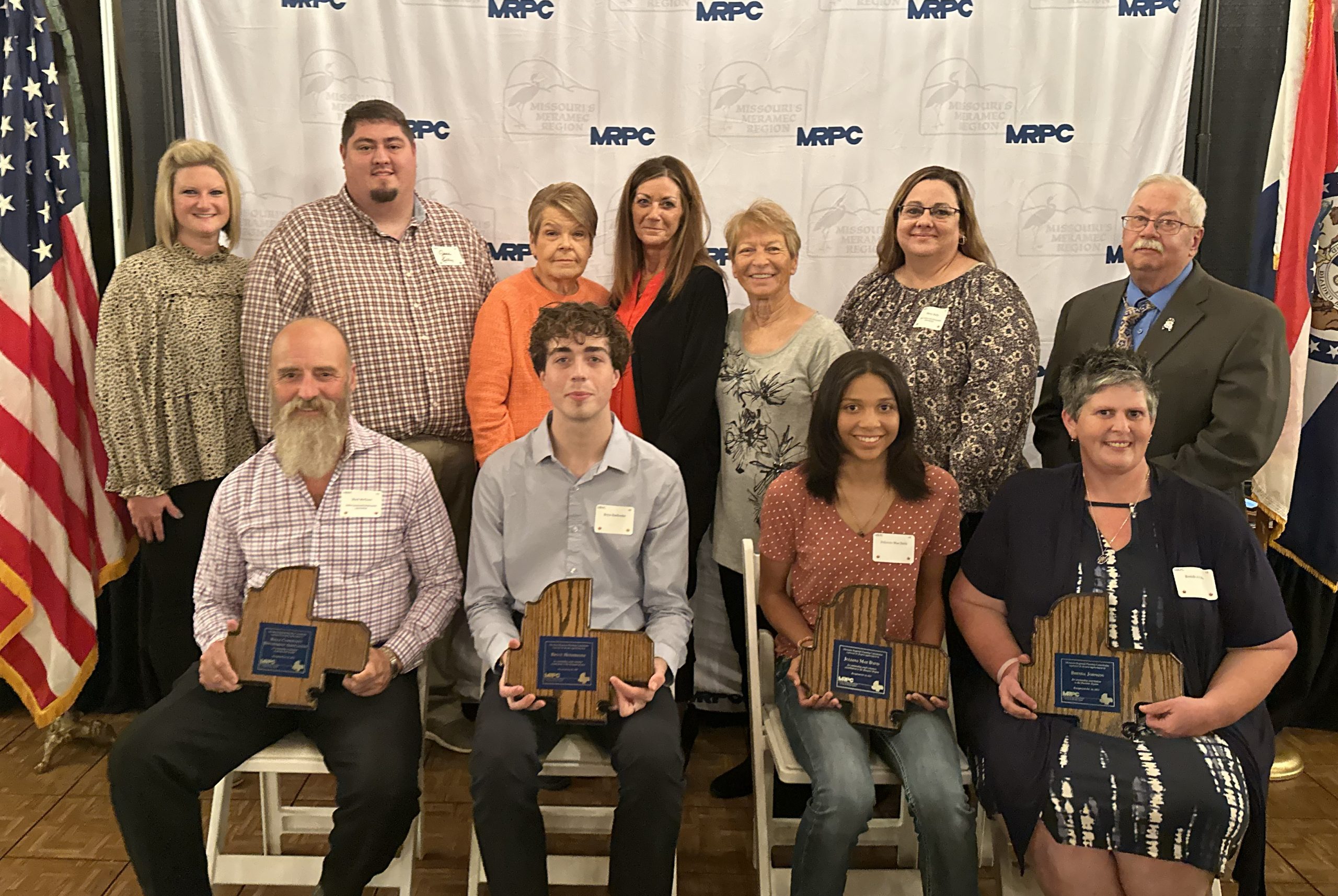 ST. JAMES—Brenda Johnson, Julianna Mae Davis and the Belle Community Betterment Association (BCBA) were honored with outstanding community service awards during the Meramec Regional Planning Commission's (MRPC) Annual Dinner and Awards Banquet, held Oct. 26 at the Festhalle in Hermann. Each year, MRPC honors residents, local agency representatives and organizations in the Meramec Region who contribute to their communities by volunteering their time, talents and support. This year's event was hosted by Gasconade County and the City of Hermann. Event sponsors included Hermann Area Chamber of Commerce, Hermann Regional Economic Development Corporation, Peoples Savings Bank and Joseph Brazil.
Johnson, of Vienna, was nominated by Maries County Presiding Commissioner Vic Stratman. She currently serves as the treasurer on the Senior Center board and helps with their fundraising efforts. She works to promote good livestock practices through her work with the Maries County Fair, of which she previously served on the board, and by helping FFA and 4-H with their livestock showings. Along with helping at the fair, she assists the FFA with teams projects such as poultry juding and volunteers as needed. In addition to serving as the treasurer for the Maries County 4-H Council, she is a club leader in Maries County and a project leader for rabbits and chickens. Her parents started a local Phelps County Rabbit Club, which she is a member of and she serves as the president for the Missouri State Rabbit Producers Association where she helps anyone interested in rabbit production. The Rolla club coordinates shows that she helps with as well. Aside from the work she does with livestock in the area, she also serves on the gun club board and helps with the Maries County Relay for Life.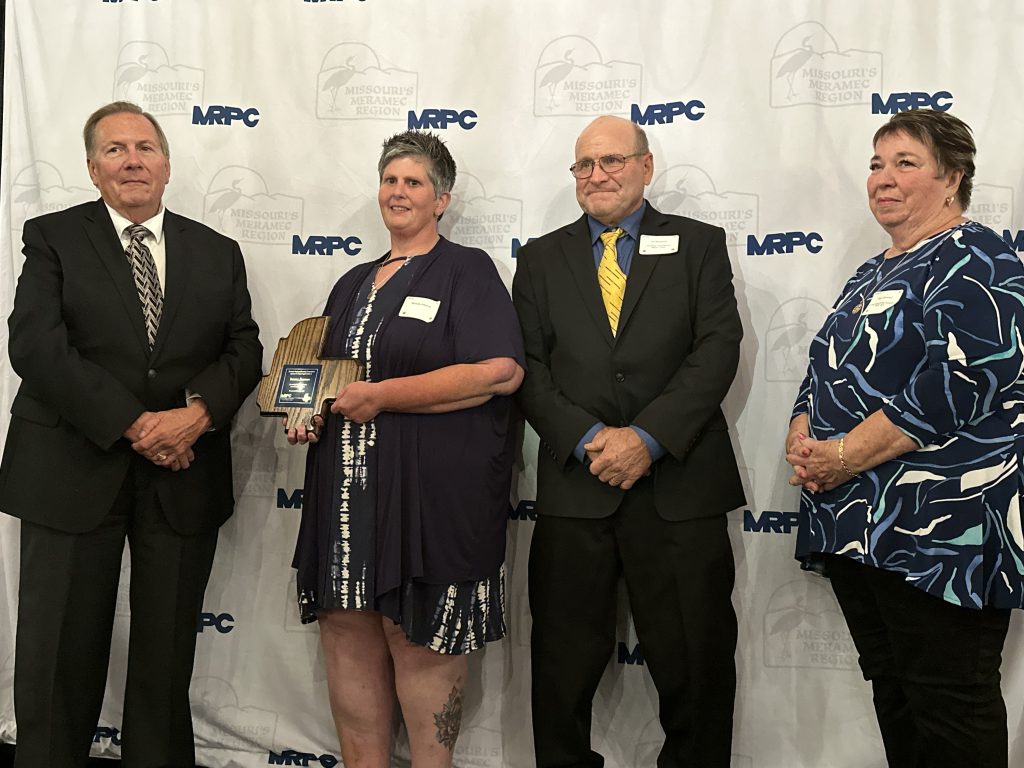 Davis received MRPC's youth volunteer award. She is the daughter of Lynn and Denise Davis and was also nominated by Stratman. She is a sophomore at Maries R-1 high school who has been involved in FFA for two years and Students Against Destructive Decisions (SADD). She also volunteers at Loaves and Fishes, the local food bank. Through the First Baptist Church, she volunteers at Kids Club overseeing children and assisting with activities. She also helps with the elementary and middle school softball camp and basketball camp. She was involved in gardening and working with cattle on the farm this summer. She also plays softball and basketball. When she has the time, she also helped care for her nieces and nephews this summer.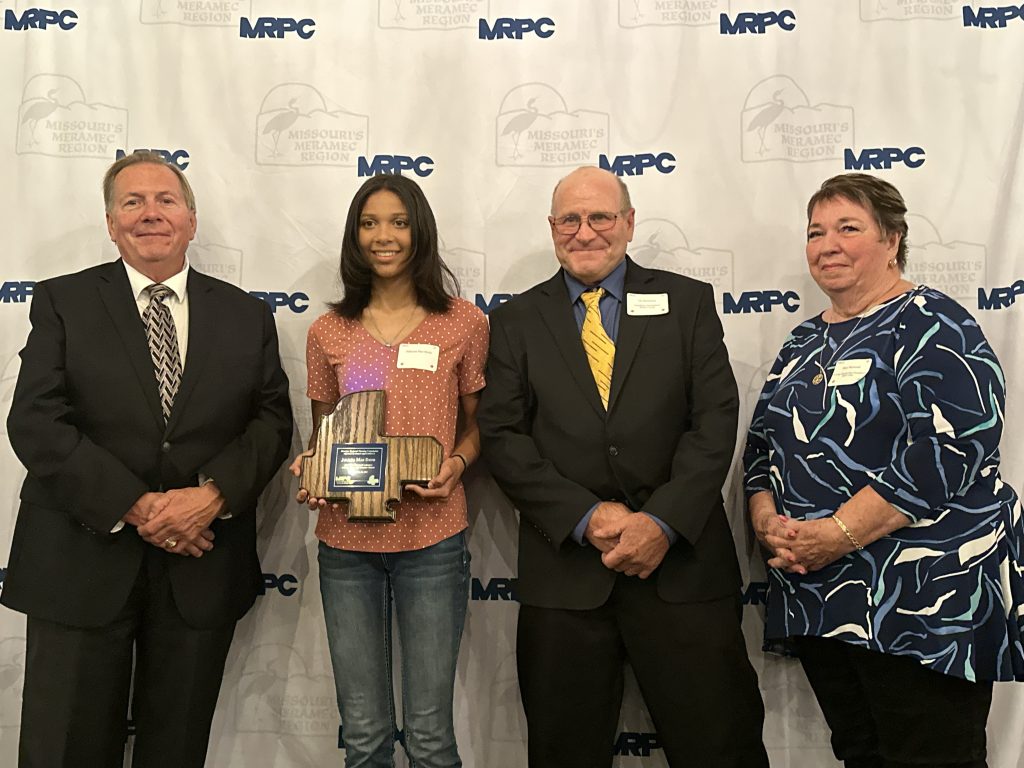 The BCBA was nominated by MRPC Board Member Steve Vogt, who represents the city of Belle on the board. The BCBA has taken the place of the Chamber of Commerce. BCBA uses its annual Swap Meet fundraiser to fund projects in Belle, while grants and other fundraisers supplement projects. Projects they have funded include a "Welcome to Belle" sign. Besides raising money for the sign, they provided a great deal of labor. They have purchased Christmas pole light decorations and provided the labor to install them downtown, toward the school and between the city limits on Hwy. 28. They decorate the flower pots along the business district in summer, fall and at Christmas. They provide financial assistance to other community groups as well as labor at their fundraisers. BCBA sponsors a father/daughter and a mother/son dance at the Community Center each year. They provided labor to help the FBLA build a gazebo at the Belle City Park, painting and landscaping as well. Using their volunteer labor, BCBA completely renovated an old out-of-date restroom at the city park, painted the fair stage, Quonset hut and pavilion. They promote new businesses in Belle, providing them with a ribbon cutting ceremony. They also support the future Rock Island Trail which runs through Belle. They are working on a project to bring a Flag Park to Belle, to be located along the trail. It will display flags from every state, and honor those who fought to defend our freedom.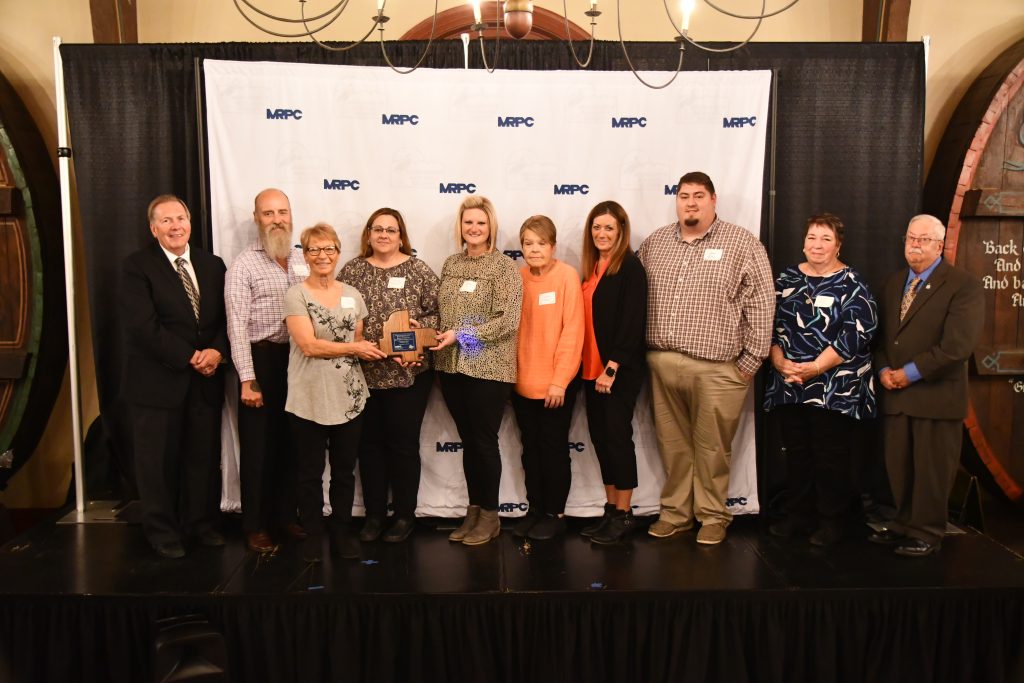 "It was so good to come together in-person and honor our volunteers," said MRPC Executive Director Bonnie Prigge. "We are only able to honor a few volunteers each year, yet we extend our gratitude to the hundreds of volunteers in our region who truly make our region such an amazing place to live, work and visit. We are successful because of our volunteers."
The night included a reception that began at 5:30, which was sponsored by The Inn at Hermannhof and showcased German music and dance by the Loehnig German Band and Wurstjaegger dancers. A silent auction, held during the reception, raised over $3,076 to offset the costs of the dinner. Approximately 170 people attended this year's event. The dinner was catered by the Inn at Hermannhof.
Other individuals and community organizations recognized for 2023 contributions to their communities are:
Sarah Rion of Potosi, nominated by MRPC Board Member Laurel Yahl,
Barbara Feagan of Owensville, nominated by Gasconade County Presiding Commissioner Tim Schulte,
Rylee Krawiecki of Rolla, nominated by MRPC Board Member Shane Anselm, and
The ARK Community and Sports Center, nominated by Waynesville Mayor Sean Wilson.
This year's other youth award recipients were:
Bryce Heidbreder of Bland, nominated by MRPC Board Member Steve Vogt,
Emilia Vega of Waynesville, nominated by Waynesville Mayor Sean Wilson,
Easton May of Salem, nominated by Dent County Presiding Commissioner Gary Larson, and
Madiline Pankey of St. James, nominated by MRPC Board Member Shane Anselm.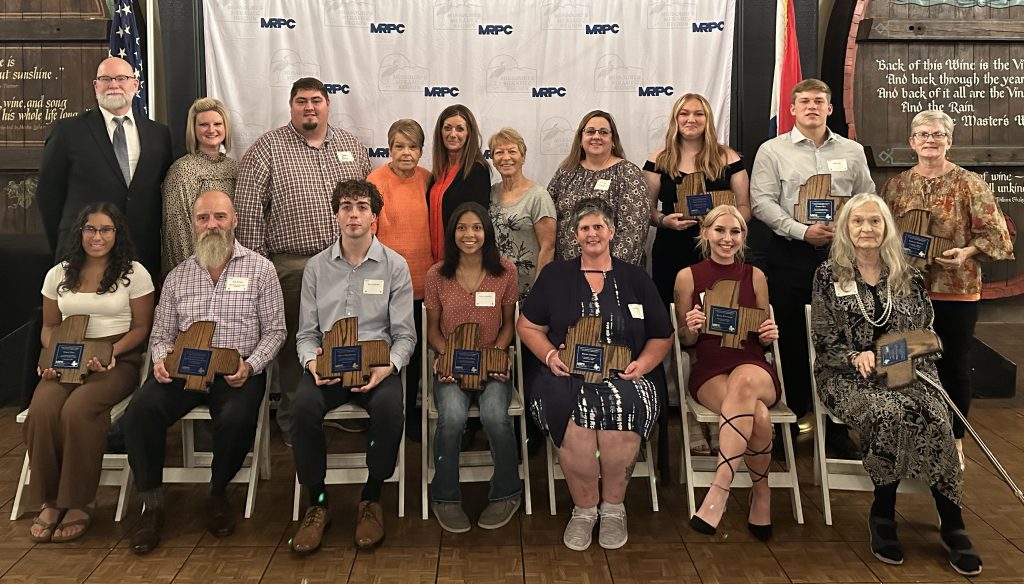 The Eugene E. Northern award, the highest honor given by MRPC for volunteers and community service, was presented to Deloris Gray Wood of Salem for 2023.
Wood, nominated by Dent County Presiding Commissioner Gary Larson, is a community scholar and journalist who works to educate the public on the Native American history in this area. She currently serves as the president of the Dent County Historical Society, past president of the Missouri Chapter Trail of Tears Association and a national board member of the Trail of Tears Association. She is also a member of the Trail Leaders Council, Partnership for the National Trails System and helped plan a Trails Workshop in Albuquerque in November 2022. In 2006, she and then Waynesville Mayor Luge Hardman worked to certify a portion of the trail near the Old Route 66 Bridge and Roubidoux Spring. They then worked together to establish seven National Park Service wayside exhibits in the park.
In 2017, Deloris was instrumental in planning stops for the Cherokee Removal Bike Riders as they came through Crawford, Phelps and Pulaski counties. The day included stops at schools to speak with students and other landmarks along their path, riding along the Trail of Tears. At Hike the Hill, in Washington, D.C. in February 2023, she presented before the US House of Representatives staff for the Natural Resources, Public Lands, Bureau of Land Management and National Park Service.
Wood also located two campsites north of St. James, in Phelps County, where Cherokees camped in the fall of 1837 and other detachments in 1938 that the National Park Service Trails Office in Santa Fe has acknowledged. Recently, she has submitted a National Park Service grant to tell the story of the Current River. She is also working in St. Francois County to get the National Park Service Historical Trails signed and properly designated.
The Lender of the Year award was also presented during MRPC's Annual Dinner. Working in partnership with the Meramec Regional Development Corporation (MRDC), MRPC recognizes lending institutions who partner with MRPC/MRDC on local business projects. For 2023, the Lender of the Year award was presented to Guaranty Bank. Guaranty Bank partnered with MRDC on two SBA 504 loans for PR Joplin, LLC, dba Pizza Ranch in Joplin and Croft Wilson Properties LLC, dba as Croft Bedding Company in Webb City.
Staff members were recognized at the 2023 awards banquet for years of service included:
Bethany Ferrell, Senior Accountant II, 5 years of service;
Chuck Cantrell, Housing Inspector, 25 years of service;
Tammy Snodgrass, Assistant Director and Environmental Manager, 30 years of service; and
Elaine Cloyde, Housing Program Coordinator, 35 years of service.
Each year, MRPC employees are asked to select one staff member who performs above the call of duty, exhibits exemplary work performance, voluntarily promotes the organization and exhibits a positive work ethic and attitude. MRPC's 2023 employee of the year was Linda Carroll, secretary.
Formed in 1969, MRPC is a voluntary council of governments serving Crawford, Dent, Gasconade, Maries, Osage, Phelps, Pulaski and Washington counties and their respective cities. Mary Heywood, representing the unemployed, serves as chair of the board. A professional staff of 30 offers technical assistance and services, such as grant preparation and administration, housing assistance, transportation planning, environmental planning, ordinance codification, business loans and other services to member communities.
To keep up with the latest MRPC news and events, visit the MRPC website at www.meramecregion.org or on Facebook at www.facebook.com/meramecregion/.
-30-