The Maries County Bank honored as Lender of the Year at MRPC annual dinner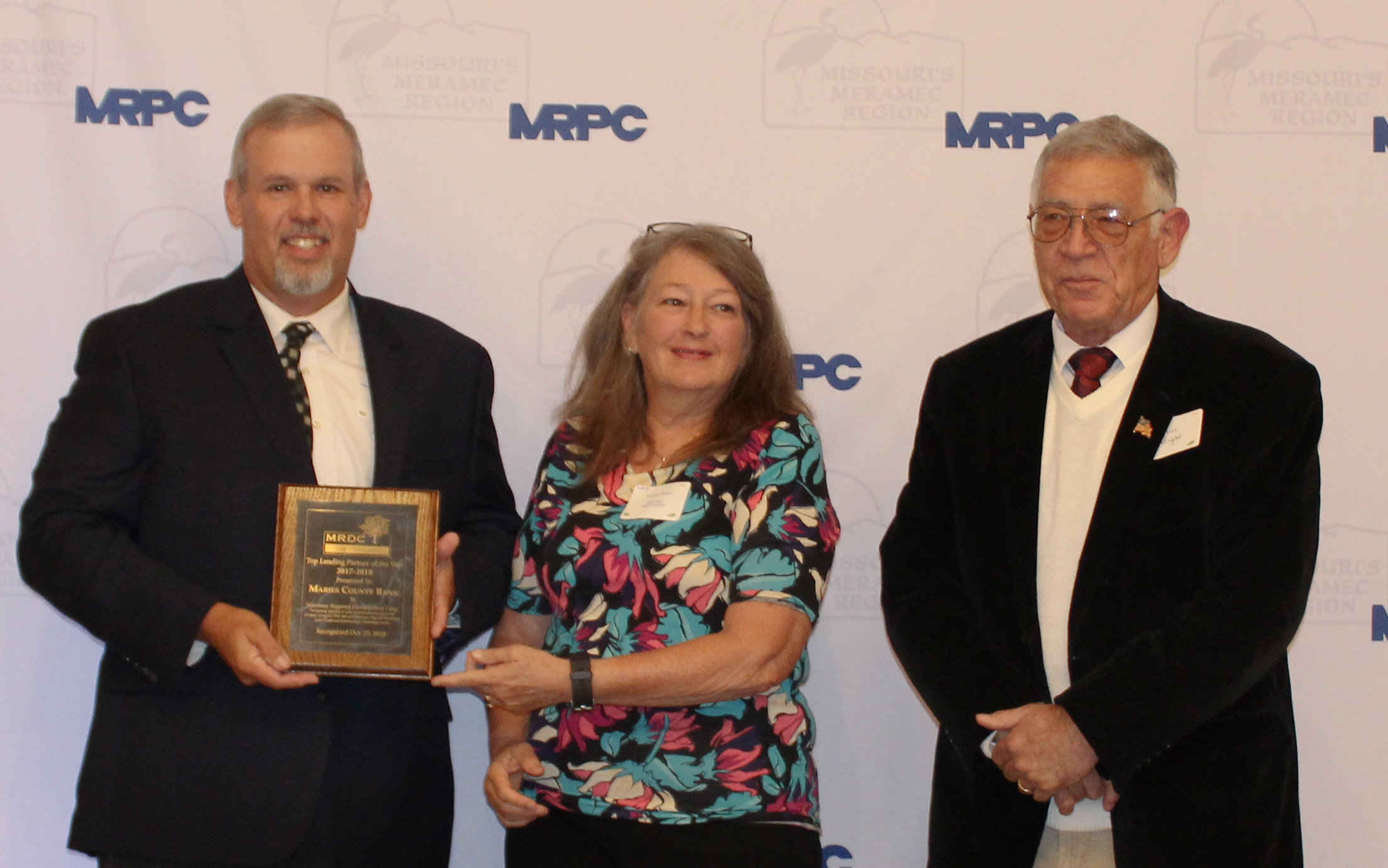 ST. JAMES—The Maries County Bank was honored as the Lender of the Year by the Meramec Regional Development Corporation (MRDC) for its partnership efforts to bring jobs and private investment to the Meramec Region.  Mark Hayes, senior vice president of The Maries County Bank, accepted the award at Meramec Regional Planning Commission's (MRPC) 2018 Annual Dinner Oct. 25 at Hermann Hill Wedding and Conference Center, Hermann, MO.  Darlene Weber, president of MRDC, made the presentation.
The Maries County Bank and MRDC partnered on financing for the sale and renovation of Meramec Vineyard Winery and the expansion of Aging Made Easy, using MRPC's Revolving Loan Fund. These two projects created and retained 57 jobs and together generated nearly $600,000 in new investment in these businesses.
The Maries County was founded in August 1900 and opened its first bank in Vienna, MO on September 1, 1900. The bank has nine locations in Argyle, Dixon, Belle, St. James, Vichy, Owensville, St. Robert, Richland and Iberia.
MRDC, an SBA Certified Development Company, partners with local banks to provide gap financing for the SBA 504 program. MRDC also serves as a loan review board for MRPC – owned revolving loan funds. MRPC provides the staffing for MRDC.
For more information on MRPC's small business loans program, contact Maria Bancroft at 573-265-2993 ext. 114 or at mbancroft@meramecregion.org.
Formed in 1969, MRPC is a voluntary council of governments serving Crawford, Dent, Gasconade, Maries, Osage, Phelps, Pulaski and Washington counties and their respective cities. Marvin Wright is the chairman of the board. A professional staff of 25 offers technical assistance and services, such as grant preparation and administration, housing assistance, transportation planning, environmental planning, ordinance codification, business loans and other services to member communities.
To keep up with the latest MRPC news and events, visit the MRPC website at www.meramecregion.org or on Facebook at www.facebook.com/meramecregion/.
-30-
Cutline: Senior Vice President Mark Hayes (left) accepted the Lender of the Year award on behalf of The Maries County Bank from Darlene Weber, president of Meramec Regional Development Corporation and MRPC Chairman Marvin Wright.