Salem collection nets 6.62 tons of recyclable material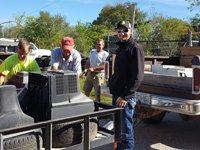 For immediate release

For more information, contact
Jill Hollowell or Tammy Snodgrass at (573) 265-2993
SALEM— Meramec Regional Planning Commission (MRPC), with funding from the Ozark Rivers Solid Waste Management District (ORSWMD), gathered 6.62 tons of electronics and tires at a special collection held in Salem on Sept. 30. Approximately 90 vehicles from within the Ozark Rivers seven-county region – Crawford, Dent, Gasconade, Maries, Phelps, Pulaski and Washington – dropped off items at the collection, which is an increase from the 2014 collection held in Salem that collected 2.92 tons of recyclable material.
Of the 6.62 tons of recyclable waste collected, 76 televisions and 29 microwaves were diverted from being landfilled. These were the two most commonly recycled items at the event among the miscellaneous e-waste that included laptops, radios, speakers, monitors, cords and printers, as well as one refrigerator and one stove being recycled.
Michael Short, a 50-year Salem resident, and his son Matthew gladly paid $2 each for their 16 tires and $10 each for their five TVs and computer monitors. When MRPC Environmental Program Specialist Jill Hollowell spoke with Short about how much MRPC appreciated them bringing recyclable items to the collection, he replied, "You should let people know that they'll be drinking that stuff if they don't recycle it. Too much trash goes into sinkholes."
The "stuff" Short was referring was electronics contain harmful chemicals such as mercury, lead, zinc or cadmium. Discarding trash along the side of the road or in sinkholes poses special concern for Southern Missouri due to its karst landscape. A karst landscape describes the porous layers of soil and rock that create an underground drainage system of water.
When pollutants enter groundwater, they may also enter your well water, and Short feels people should be made aware of this fact.
"It isn't just sinkholes that are an entry point," Hollowell said. "It is also the water flowing over the land after rainfall. When pollutants enter groundwater, they may enter a natural spring as well as your drinking water, which is why we offer subsidized electronic collections to assure public health."
Hollowell extended a special thank you to the city of Salem, Ray Walden and Ron Hutson with the city, Dent County Commission, University of Missouri Extension office staff, KSMO radio and the Salem Public Library for help in publicizing and participating in the Sept. 30 collection event.
For more information on special collections or for upcoming special collections, contact Hollowell at 573-265-2993 or visit ozarkrivers.org. Also follow us on Facebook at www.facebook.com/ORSWMD.
The Ozark Rivers District includes Crawford, Dent, Gasconade, Maries, Phelps, Pulaski and Washington counties and their respective cities with populations of 500 or more. The district's strategy for solid waste reduction, which has been individually adopted by all member governments and approved by Missouri Department of Natural Resources involves intense education and increased recycling efforts in member counties and cities. MRPC provides administration of the district and assists with a variety of implementation projects.
For more information about ORSWMD or waste reduction and recycling opportunities in the Ozark Rivers area, contact Tammy Snodgrass, MRPC environmental programs manager, at 573-265-2993 or by email at tsnodgrass@meramecregion.org.
Formed in 1969, MRPC is a voluntary council of governments serving Crawford, Dent, Gasconade, Maries, Osage, Phelps, Pulaski and Washington counties and their respective cities. A professional staff of 23, directed by the MRPC board, offers technical assistance and services, such as grant preparation and administration, housing assistance, transportation planning, environmental planning, ordinance codification, business loans and other services to member communities.
To keep up with the latest MRPC news and events, visit the MRPC website at www.meramecregion.org or on Facebook at www.facebook.com/meramecregion/.