Ozark Rivers recognizes individuals, organizations for solid waste management achievements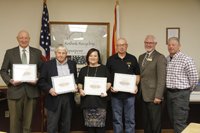 For immediate release

For more information, contact
Tammy Snodgrass or Jill Hollowell at (573) 265-2993
Ozark Rivers Solid Waste Management District was proud to be able to honor four individuals for their efforts in solid waste reduction last night at the annual dinner and awards banquet. Stay tuned for more in depth information on each individual and their efforts in upcoming posts. From left to right: Stephen Tupper – MO S&T, Phil Burke Bipacco Coatings, Nadine Albrecht, Troy Porter – Dixon Are Caring Center Recycling Services, Representative Steve Lynch and Brady Wilson Chairman of the Ozark Rivers Solid Waste Management District
ST. JAMES—Ozark Rivers Solid Waste Management District (ORSWMD) recognized achievements in solid waste management at its annual awards ceremony Nov. 28 at Meramec Regional Planning Commission (MRPC). Individuals and organizations recognized were Bipacco Coatings of Cuba, the Dixon Area Caring Center, Missouri S&T Residential Life and Nadine Albrecht of Pulaski County.
"As part of its mission, the ORSWMD likes to recognize and honor individuals and/or groups that are making extra efforts to contribute to an improved quality of life in our region," ORSWMD Chairman Brady Wilson said. "These efforts can include new or increased recycling programs, environmental education and awareness programs, innovative material reuse or repurposing projects.
Recognized this year for their accomplishment in finding an innovative way to use scrap tire material and diverting tires it from the landfill was Bipacco Coatings of Cuba.
Bipacco Coatings has been in business for over 30 years and strives to reduce waste in the manufacturing process of coatings. Bipacco has developed several eco-friendly product lines with the newest one being Eco-Tred, which incorporates crumb rubber into the product. This product is a promising development in efforts to create new end markets for using waste tires.
Two organizations, Dixon Area Caring Center and Missouri S&T Residential Life were recognized for their ability to divert material from the landfill.
The Dixon Area Caring Center Recycling Services began by recycling textiles, books and miscellaneous items funneled through its resale shop. Since 2016, it has expanded the recycling program by making it open to the general public. The caring center now accepts aluminum, tin, plastic, paper/magazines and cardboard. They are also expanding their services to include e-scrap and batteries. Their goal for 2017 is to divert 50 tons of recyclable material from the landfill.
Missouri S&T Residential Life works to divert items from the landfill by organizing an end of the year move-out drive and collects unwanted goods and foods products from departing students. For the past three years, Missouri S&T Residential Life has successfully coordinated collections for food and household goods from each of its residential facilities. These collections begin the week prior to move out. The non-perishable food products are given to GRACE of Rolla, and unwanted goods are provided to local thrift shops instead of ending up in university dumpsters.
Education about solid waste reduction and recycling is just as important.  Ozark Rivers also honored Nadine   Albrecht, a Volunteer in Service to America (VISTA), who works with students at Pick Educational Facility once a week during leadership sessions, and has incorporated a service learning project that teaches how being responsible with trash helps create a better environment for the future. The group sets goals, collects and sorts recycling materials and then sends the materials to the appropriate recycling center. Albrecht actively guides students in each step of the process, and she excels in motivating and educating her students to do their small part to make a big difference.
"The ORSWMD board honors folks like these each year at the Annual Awards banquet.  If you know of a worthy program or project in your community, please share it with the ORSWMD by calling 573-265-2993," said Wilson.
For tips on how you can achieve solid waste reduction follow us on Facebook at www.facebook.com/ORSWMD.
The Ozark Rivers District includes Crawford, Dent, Gasconade, Maries, Phelps, Pulaski and Washington counties and their respective cities with populations of 500 or more. The district's strategy for solid waste reduction, which has been individually adopted by all member governments and approved by Missouri Department of Natural Resources involves intense education and increased recycling efforts in member counties and cities. MRPC provides administration of the district and assists with a variety of implementation projects.
For more information about ORSWMD or waste reduction and recycling opportunities in the Ozark Rivers area, contact Tammy Snodgrass, MRPC environmental programs manager, at 573-265-2993 or by email at tsnodgrass@meramecregion.org.
Formed in 1969, MRPC is a voluntary council of governments serving Crawford, Dent, Gasconade, Maries, Osage, Phelps, Pulaski and Washington counties and their respective cities. A professional staff of 22, directed by the MRPC board, offers technical assistance and services, such as grant preparation and administration, housing assistance, transportation planning, environmental planning, ordinance codification, business loans and other services to member communities.