Ozark Rivers recognizes individuals, organizations, businesses for solid waste management achievements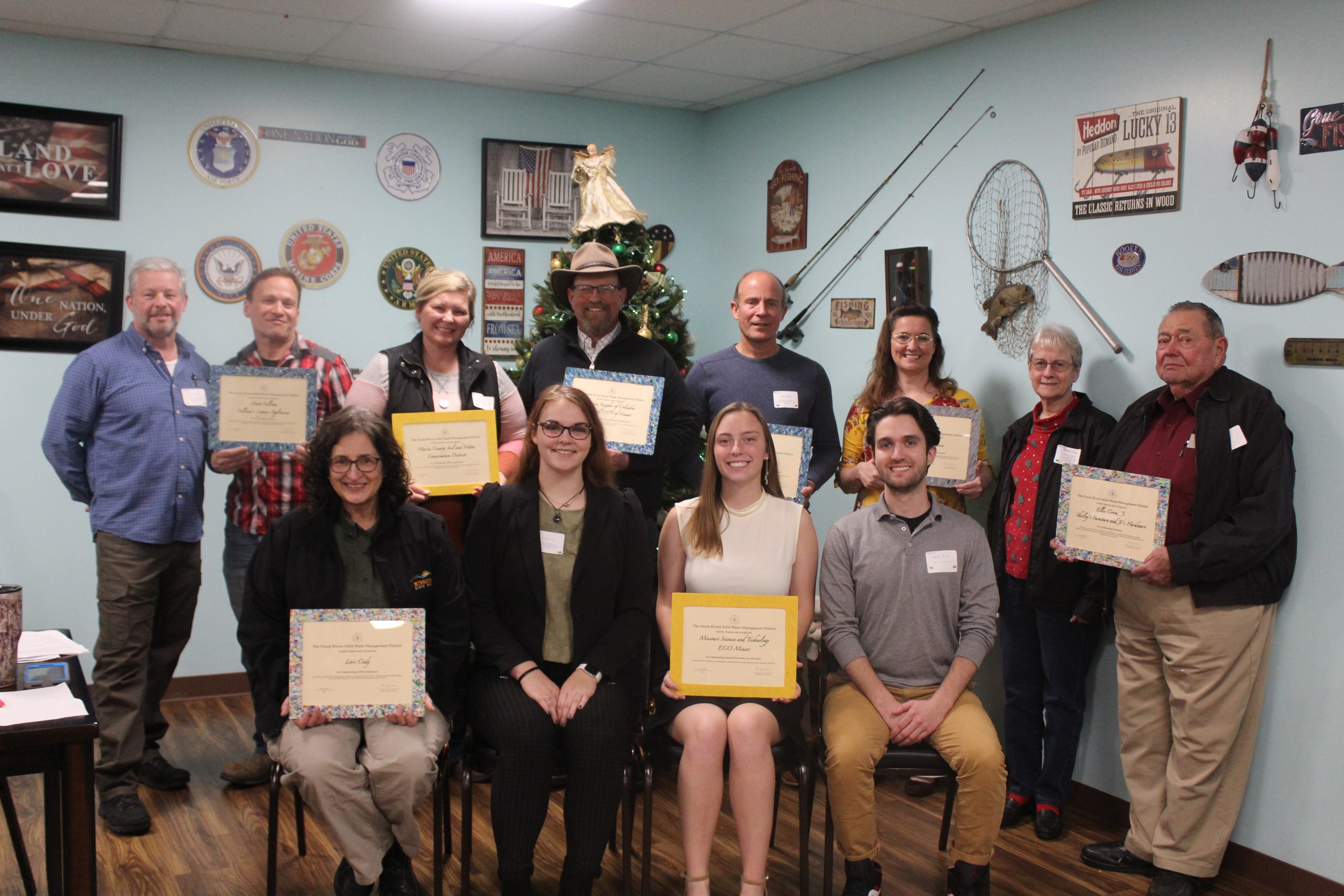 ST. JAMES—Ozark Rivers Solid Waste Management District (ORSWMD) recognized achievements in solid waste management at its annual awards ceremony Nov. 30 at the St. James Senior Center. Individuals, organizations and businesses recognized were Lori Cody of Salem, Maries County Soil and Water Conservation District, Ellis Crum Jr. of Vienna, Matt Fulliam of Salem, The Visitation Knights of Columbus – Council 13178 of Vienna, Catalytic Innovations of Rolla, Missouri S&T ECO Miners, Samantha Alcorn of Viburnum and the MO Moto Trail Riders Association.
"As part of its mission, the ORSWMD likes to recognize and honor individuals and/or groups that are making a difference with their efforts to improve and/or preserve our natural world," ORSWMD Chairman Brady Wilson said. "These folks are stepping up to do their part through recycling programs, environmental education and awareness programs, innovative material reuse or repurposing projects, etc."
Recognized this year for their accomplishment as public employees were Lori Cody, a park specialist II for Montauk State Park, and the Maries County Soil and Water Conservation District.
Cody, nominated by Ozark Rivers Vice-Chairman Darrell Skiles, was recognized for implementing a campsite recycling program at Montauk State Park to reduce the waste generated by 24,000 campsite visits and 8,500 cabin and motel visits annually. With placing two recycling bags at each campsite, staff processed more than 941 pounds of aluminum during the first two weeks of August 2020, and a total of 10 tons of recycled material was diverted from landfills this year.
Maries County Soil and Water Conservation District, nominated by Maries County Presiding Commissioner Vic Stratman, was recognized for its reuse of 1,000-pound large machinery tires since the 1990s as livestock watering tanks. The top one foot of an eight-foot diameter scrap tire holds about 400 gallons of water – enough for an 80-head herd of cattle for a day. Ranchers have benefitted from the avoided cost of purchasing water tanks, and these huge tires are diverted from landfills.
The businesses being recognized this year included Ellis Crum, Jr., owner of Shirley's Furniture and Jr.'s Hardware in Vienna, and Matt Fulliam of Fulliam's Legacy Appliances in Salem.
Crum, nominated by Stratman, has offered an appliance recycling program for the residents of Maries County for several years. He takes old appliances, for a small fee, and hauls them to a recycler. Crum charges the same amount as area recycling events and by doing this has prevented illegal dumping and encourages recycling.
Fulliam, nominated by Wilson, works to refurbish and, when not possible, recycle old appliances. Discarded appliances are repaired or used for spare parts to repair other appliances. His efforts, too, work to prevent illegal dumping and are providing a full circle recycling of appliances in the Salem community.
One non-governmental organization was recognized for its recycling efforts. The Visitation Knights of Columbus – Council 13178 of Vienna, nominated by Stratman, have maintained a trailer, parked near their Vienna facility, where locals can drop off aluminum. To date, they have recycled about 6-7 tons of aluminum that would have otherwise gone to landfills.
Catalytic Innovations of Rolla, nominated by Wilson, was recognized for their sustainable material management efforts. The company has started a household battery collection program in the region in order to provide a low-cost way to recycle batteries. In addition, Catalytic Innovations has found viable markets for the materials recovered from the batteries. The zinc and manganese can then be safely used in many applications like new batteries or micronutrients for plants.
In the area of volunteer involvement, the Missouri S&T ECO Miners, Samantha Alcorn and MO Moto Trail Riders Association were honored.
The Missouri S&T ECO Miners, nominated by Ozark Rivers Executive Board Member Gary Gilliam, have been working to raise awareness about sustainability on campus through electronics collections. Additionally, they host an annual Earth Day event, participate in a campus wide competition called Recycle Mania and work with Ozark Rivers to provide recycling containers for the athletic field.
Samantha Alcorn of Viburnum, nominated by Gilliam, coordinated volunteers for a cleanup that removed 4.03 tons of trash and recycled 140 pounds of scrap metal on Mark Twain National Forest property in Crawford County. "I decided to organize this cleanup because I wanted to show not only my son, but others, that one person can make a difference, and I chose this location because it's our town," Alcorn said in an email.
MO Moto Trailer Riders Association, nominated by Gilliam, worked with MRPC and Ozark Rivers to organize and execute a three-site illegal dump cleanup in Washington County. The group scouted dumpsites in known riding areas, planned dumpster locations and organized over 65 volunteers from all over the state for the one-day cleanup effort. The group removed 10 tons of waste from the forest, including 2.7 tons of tires that were recycled.
"The ORSWMD board honors folks like these each year at the Annual Awards banquet. If you know of a worthy program or project in your community, please share it with the ORSWMD by calling 573-265-2993," said Wilson.
For tips on how you can achieve solid waste reduction visit www.ozarkrivers.org or follow us on Facebook at www.facebook.com/ORSWMD.
The Ozark Rivers District includes Crawford, Dent, Gasconade, Maries, Phelps, Pulaski and Washington counties and their respective cities with populations of 500 or more. The district's strategy for solid waste reduction, which has been individually adopted by all member governments and approved by Missouri Department of Natural Resources involves intense education and increased recycling efforts in member counties and cities. MRPC provides administration of the district and assists with a variety of implementation projects.
For more information about ORSWMD or waste reduction and recycling opportunities in the Ozark Rivers area, contact Tammy Snodgrass, MRPC environmental programs manager, at 573-265-2993 or by email at tsnodgrass@meramecregion.org.
Formed in 1969, MRPC is a voluntary council of governments serving Crawford, Dent, Gasconade, Maries, Osage, Phelps, Pulaski and Washington counties and their respective cities. Steve Vogt, representing the city of Belle, serves as chairman of the board. A professional staff of 34 offers technical assistance and services, such as grant preparation and administration, housing assistance, transportation planning, environmental planning, ordinance codification, business loans and other services to member communities.
To keep up with the latest MRPC news and events, visit the MRPC website at www.meramecregion.org or on Facebook at www.facebook.com/meramecregion/.
-30-
Pictured Left to Right: (Back) Brady Wilson, ORSWMD Chairman, Matt Fulliam, Amy Neier with the Maries County Soil and Water Conservation District, Mark James with Vienna Knights of Columbus, Scott Volner with Catalytic Innovations, Samantha Alcorn, Shirley Crum, Ellis Crum Jr., (Front) Lori Cody and the Missouri S&T  ECO Miners Megan Sly, Mason Sitek and Charles Barker