Osage County Anti-Drug Community Action Team receives $1,500 to address substance abuse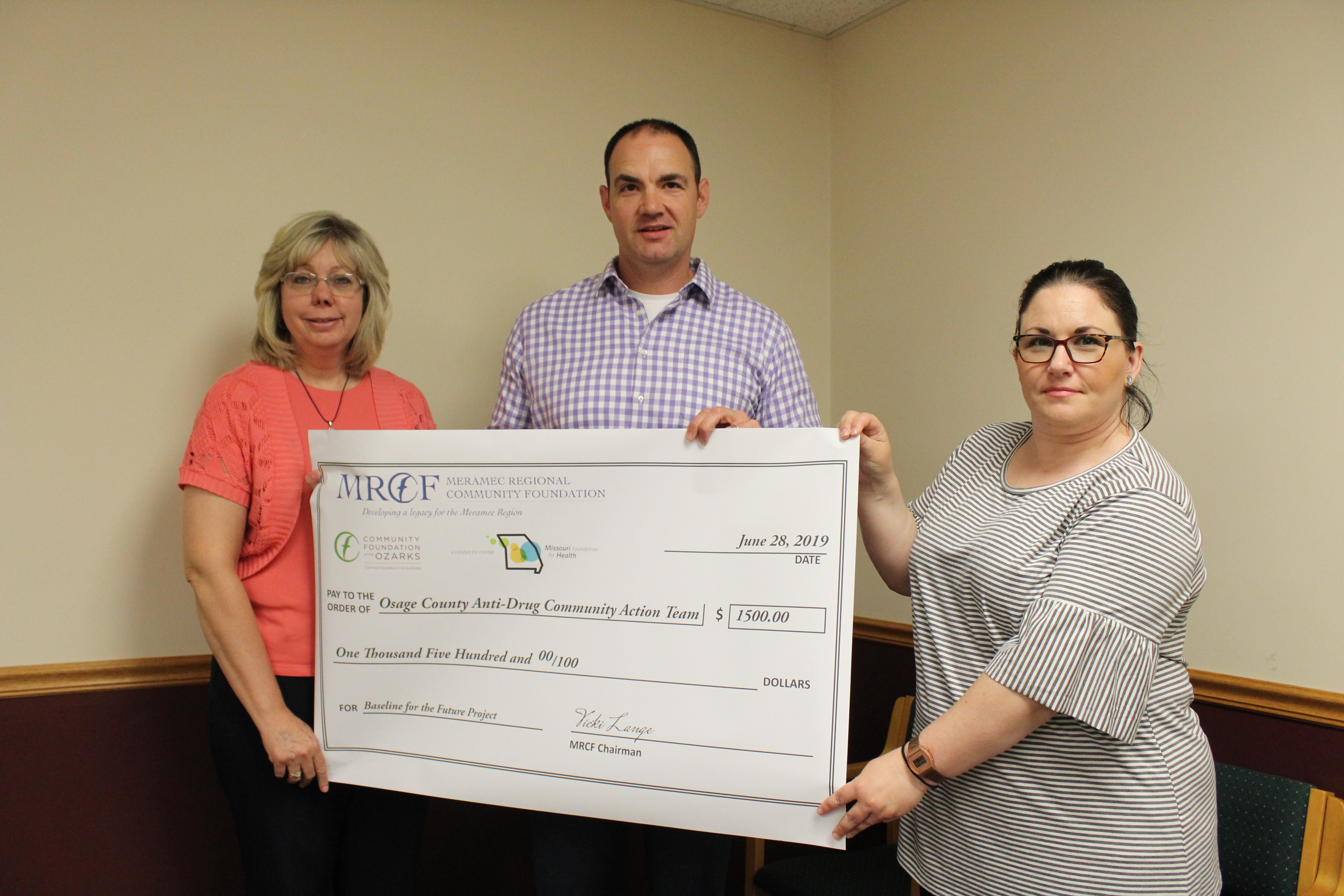 ST. JAMES—The Osage County Anti-Drug Community Action Team (OCADCAT) received a $1,500 grant from Meramec Regional Community Foundation (MRCF) through the Rural Ozarks Health Initiative to address health issues in relation to substance abuse. The group plans to establish a program through the schools known as "Baseline for the Future."
Baseline is a facilitated program that increases awareness of the impact that alcohol and other drugs can have on the student, the family, and the community. The program provides information and enables them to comprehend the facts that will inform health life choices. The program will focus on the freshmen at all three public schools in Osage County, located in Linn, Chamois and Fatima. The training will be held at the Linn school with other students being bussed in for the program.
"The Baseline program provides an opportunity for students to collaborate off their school campus with students from other areas to address all matters related to substance abuse," OCADCAT Board President Lyle Best said. "OCADCAT strives to provide programs for all areas of Osage County in the hope to improve the health and quality of life for the future."
MRCF awarded five grants to local programs aimed at combating substance abuse. Other projects included:
Check Mate: Creating Healthy Empowered Choices in Kids, Managing Addiction through Education program – $2,500 to the Bourbon Elementary School to purchase curriculum and receive formal training in drug addiction and substance abuse;
The Bedroom Revealing Drug Use Project – $2,500 to the Mid-Mo Addiction Awareness Group to renovate a camper into a bedroom that will show parents typical and non-typical hiding places for drugs and drug paraphernalia to be used as an awareness and education exhibit; 
Meramec Region Safe Rx Storage Project – $1,250 to the Meramec Community Enhancement Corporation (MCEC) for 96 lockable storage bags to seniors in the Meramec Region to reduce illicit acquisition and diversion of prescription opioids; and 
Overcoming Barriers in Substance Use Disorder Recovery – $2,500 to MCEC for a job fair focused specifically on those individuals with substance use disorders who are struggling to recover due to barriers in employment and other safety net resources. 

Funding for these grants was provided by the Community Foundation of the Ozarks and the Missouri Foundation for Health. 
MRCF is an outgrowth of the Meramec Regional Planning Commission (MRPC) and is an affiliate of Community Foundation of the Ozarks (CFO) in Springfield. The regional affiliate was formed in 2010. Its 12-member board includes representation from each of the eight Meramec counties and from MRPC. Vicki Lange of Osage County serves as president of MRCF.
Currently, MRCF has 54 funds totaling over $2.9 million.
CFO is a public foundation serving the Missouri Ozarks. The foundation's mission is to enhance the quality of life in the region through resource development, community grant-making, collaborations and public leadership. Formed in 1973, CFO has since grown to include 49 affiliate community foundations and more than 3,200 charitable funds totaling approximately $300 million in assets, as of June 30, 2018.
MRPC, in addition to establishing the regional foundation and providing the initial investment to create a grant program, provides staff support to MRCF.
Formed in 1969, MRPC is a voluntary council of governments serving Crawford, Dent, Gasconade, Maries, Osage, Phelps, Pulaski and Washington counties and their respective cities. Gasconade County Presiding Commissioner Larry Miskel serves as chairman of the board. A professional staff of 25 offers technical assistance and services, such as grant preparation and administration, housing assistance, transportation planning, environmental planning, ordinance codification, business loans and other services to member communities.
To keep up with the latest MRPC news and events, visit the MRPC website at www.meramecregion.orgor on Facebook at www.facebook.com/meramecregion/.
-30-
Cutline: Mark Baker (center) accepted the large check and the real check on behalf of the Osage County Anti-Drug Community Action Team from MRPC Executive Director Bonnie Prigge (left) and Maria Bancroft, MRCF staff coordinator (right).