ORSWMD gives regional awards for environmental efforts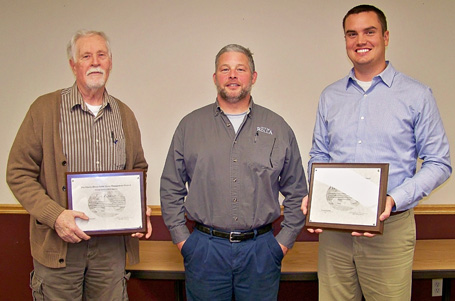 For immediate release

For more information, contact
Tammy Snodgrass at (573) 265-2993
ST. JAMES–Each year, Ozark Rivers Solid Waste Management District (ORSWMD) bestows awards on individuals and organizations that help the district meet its goal of reducing solid waste by 40 percent through a commitment to recycling and waste management.
"They are the ones out there in the real world, making things happen and making a difference, so we like to take a little time out each year and recognize and thank those folks," ORSWMD Chairman Brady Wilson said.
In 2014, ORSWMD honored a public employee and a local business during its Annual Meeting on Dec. 2.
Wallis Companies of Cuba was honored with an award in recognition of its dedication of time and resources to implement a successful commercial recycling program at the Cuba facility. Initially intended as a commercial recycling program, the program was so successful it was opened up to employees wishing to bring their recyclables to work for drop off. The company has invested in recycling bins and a trailer to collect items and deliver them to Rolla Recycling Center. Wallis Companies was nominated by Wilson, and the award was accepted by Wallis Companies Environmental Compliance Manager Donnie Greenwalt.
The second award recipient was Maries County employee Kenneth Ramsey, who has assisted the county at eight special waste collections since 2006. Combined, these collections have diverted 58.87 tons of electronics and appliances and 25.28 tons of tires from landfills to be recycled. Ramsey was nominated by Maries County Presiding Commissioner Ray Schwartze.
The Ozark Rivers District includes Crawford, Dent, Gasconade, Maries, Phelps, Pulaski and Washington counties and their respective cities with populations of 500 or more. The district's strategy for solid waste reduction, which has been individually adopted by all member governments and approved by MDNR, involves intense education and increased recycling efforts in member counties and cities.
For more information about ORSWMD or recycling opportunities in the Ozark Rivers area, contact Tammy Snodgrass, MRPC environmental programs manager, at 573-265-2993 or by email at tsnodgrass@meramecregion.org.
Formed in 1969, MRPC is a voluntary council of governments serving Crawford, Dent, Gasconade, Maries, Osage, Phelps, Pulaski and Washington counties and their respective cities. A professional staff of 22, directed by the MRPC board, offers technical assistance and services, such as grant preparation and administration, housing assistance, transportation planning, environmental planning, ordinance codification, business loans and other services to member communities.
To keep up with the latest MRPC news and events, visit www.meramecregion.org or find them on Facebook at www.facebook.com/meramecregion.
Kenneth Ramsey, Maries County employee, left and Wallis Companies, represented by Environmental Compliance Manager Donnie Greenwalt, right, were presented awards for their recycling efforts by Ozark Rivers Solid Waste Management District Chairman Brady Wilson during the disrict's annual banquet in December