MRPC seeking input from transit providers, users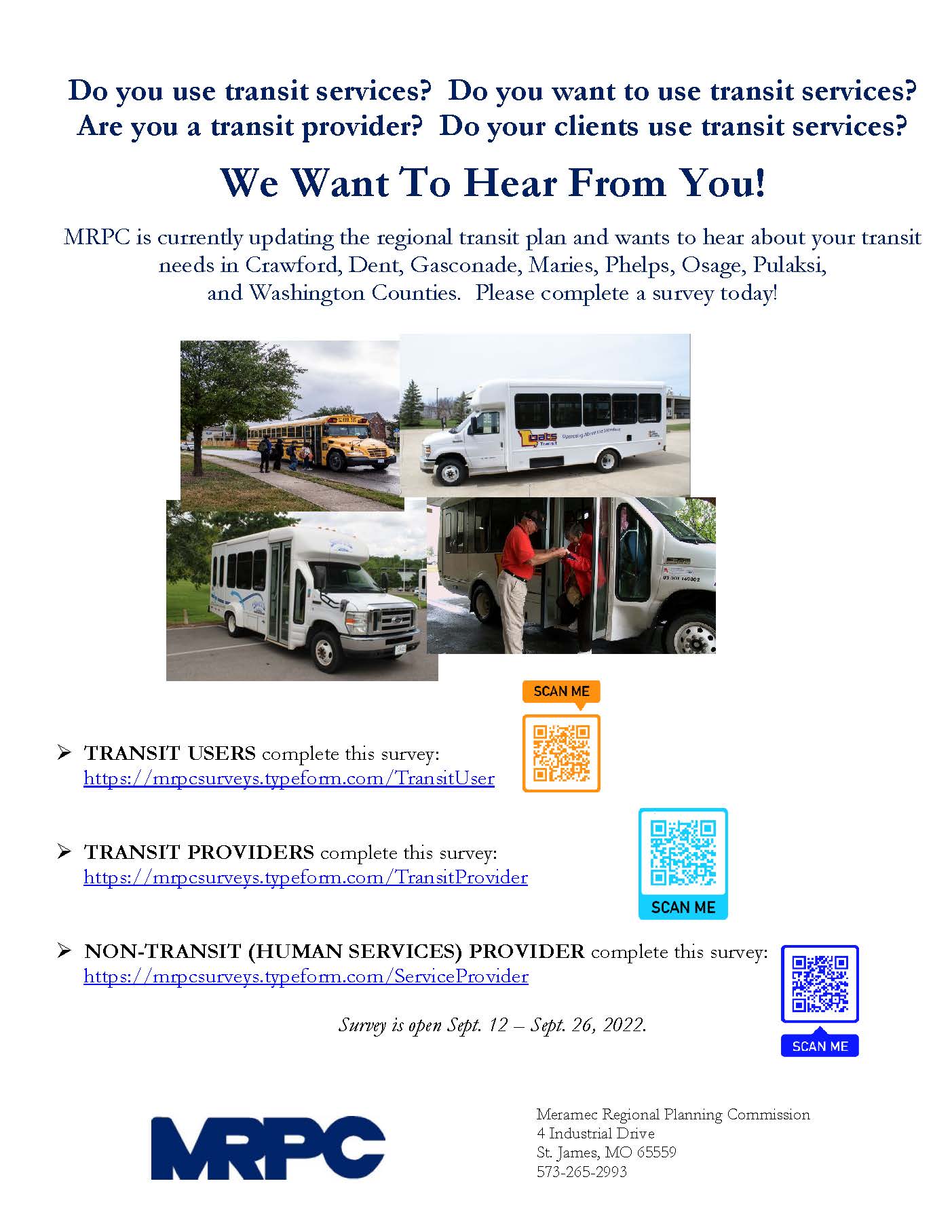 Meramec Region's public transit plan to be updated
ST. JAMES—Users of public transportation in the Meramec Region (Crawford, Dent, Maries, Osage, Phelps, Pulaski and Washington counties and their respective cities) are being asked to help update the region's transit plan by completing a short survey.
The region's public transportation plan was initially created in 2008, and Meramec Regional Planning Commission (MRPC) has been contracted by the Missouri Department of Transportation (MoDOT) to update the original plan every five years. The last plan was created in 2018 and expires in February 2023.
The plan identifies transit needs of individuals with disabilities, older adults and people with low incomes and then provides strategies for meeting those needs.
One tool used to determine those needs is a survey that is available on the MRPC website, https://www.meramecregion.org/surveys/. Users of the transit system and those with transit needs are encouraged to complete the survey by Sept. 26, 2022 at 5:00 p.m., as their input is an important part in reshaping this plan.
Paper versions of the survey are also available at senior centers in the region or by calling MRPC at 573-265-2993. A separate survey was sent to providers of public transportation in the region. All completed surveys from the public are anonymous.
Once surveys have been completed, MRPC staff and the plan's advisory committee will meet in late 2022 to examine the results and prioritize needs. In January 2023, the plan will be available for public review and will be presented to the MRPC board in February 2023 for adoption.
Formed in 1969, MRPC is a voluntary council of governments serving Crawford, Dent, Gasconade, Maries, Osage, Phelps, Pulaski and Washington counties and their respective cities. Steve Vogt, representing the city of Belle, serves as chairman of the board. A professional staff of 34 offers technical assistance and services, such as grant preparation and administration, housing assistance, transportation planning, environmental planning, ordinance codification, business loans and other services to member communities.
To keep up with the latest MRPC news and events, visit the MRPC website at www.meramecregion.org or on Facebook at www.facebook.com/meramecregion/.
-30-