MRPC discusses state priorities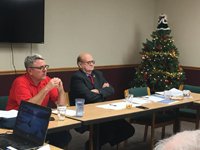 For immediate release

For more information, contact
Bonnie Prigge at (573) 265-2993
Senator Dan Brown sits and reflects on the concerns and priorities discussed by the Meramec Regional Planning Commission board of directors at their Dec. 14 meeting.
ST. JAMES­— The Meramec Regional Planning Commission (MRPC) board was joined by Senator Dan Brown for its December 14 meeting. Sen. Dan Brown spoke to the board about his views on the upcoming legislative issues, and the board shared its 2017 legislative priorities.
Each year, the MRPC board compiles a list of legislative priorities it considers important to the region and delivers those priorities to the legislators who serve residents of the region.
The top priorities for 2017, as voted by MRPC board members are:
In regional transportation: MRPC supports state legislative efforts to adequately fund highways in Missouri, improve Highway 63 to four lanes from Jefferson City to Cabool and Highway 50 to four lanes from Linn to I-44 and find adequate means to fund the maintenance and improvement of Missouri's transportation infrastructure.
In regional economic development: MRPC supports the expansion and improvement of an affordable digital infrastructure across the region; recognition of Fort Leonard Wood as one of the state's prime industries including actively working to protect, maintain and expand the mission of the base and jobs located there;  full funding of state aid for regional planning commissions; development and enhancement of national and international markets for agriculture and provide funding for farm operations in Missouri; infrastructure development for companies and communities to be successful; and the return of school schedules to Labor Day through Memorial Day.
In health care and social services: MRPC supports funding to rural hospitals and clinics; meeting the needs for health care and social services in Missouri's rural communities; supports better access to quality health care for the uninsured, underinsured and the underserved population in the region via mechanisms such as federally qualified health centers and promoting satellite facilities and clinics; and the adoption of a prescription drug monitoring program.
In environmental issues: MRPC supports continued funding of regional solid waste management districts; continued funding of the maintenance of Missouri's parks and recreational areas and protection of spring-fed streams and rivers; and state investment in land and grant programs to improve water systems and sewage treatment facilities.
In education: MRPC requests that the state legislature fully fund the Foundation Formula for public education and stop cutting dollars for education in Missouri; supports the development of existing trade schools and programs; supports a Missouri that will attract, retain, and develop a workforce with education and skills to succeed in a 21st century economy; and promote and encourage STEAM (Science, Technology, Engineering, Arts, Math) in K-12.
In local government: MRPC supports an amendment to the prevailing wage laws to eliminate the requirements on public works projects under $250,000; supports efforts to provide relief to county governments for unfunded mandates established by the legislature for cost of salaries and pensions for prosecuting attorneys; and supports a statewide sales tax on Internet sales.
The board approved the full list of priorities during its December board meeting. A report detailing all of MRPC's legislative priorities will be delivered to all legislators representing residents of the region in late January.
Topics discussed by Sen. Brown included remarks on his final year and his appreciation on being able to serve his constituents, the importance of state support for Fort Leonard Wood, and support for the solid waste districts.
In other business, the MRPC board:
Approved a ranking of transportation needs within the region, as recommended by the Transportation Advisory Committee (TAC)(see related story);
Approved the MRPC's audit. Tammy Alsop of Hochschild, Bloom and Company reviewed the audit with the board and delivered an un-modified opinion, the best opinion possible. She complimented MRPC staff on their efforts; and
Approved a letter of support for the Missouri Rock Island Trail as it impacts the cities of Belle, Bland, and Owensville. The recommendation was brought forward by the MRPC TAC, after considerable discussion in its meeting earlier in the day.
Formed in 1969, MRPC is a voluntary council of governments serving Crawford, Dent, Gasconade, Maries, Osage, Phelps, Pulaski and Washington counties and their respective cities. A professional staff of 22-, directed by the MRPC board, offers technical assistance and services, such as grant preparation and administration, housing assistance, transportation planning, environmental planning, ordinance codification, business loans and other services to member communities. Maries County Presiding Commissioner Ray Schwartze serves as MRPC chairperson.