MRCF awards community grant to Maries County R-II Schools Foundation
For immediate release

For more information, contact
Maria Bancroft at (573) 265-2993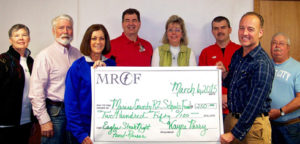 The Maries County R-II Schools Foundation was one of six recipients of community grant awards from the Meramec Regional Community Foundation (MRCF) this year. The $250 mini grant was used to assist in advertising the group's March 28 fundraiser for scholarships. Above, MRCF Board Member Vicki Nelson presents the award to Mark McClane, president of the schools foundation. Also pictured are Maries R-II Schools Foundation Vice President Jan Sassmann and director Hollis Sturdy, Maries R-II Superintendent Dr. Patrick Call, MRPC Director and MRCF board member Bonnie Prigge, Belle High School Counselor Chris Feeler, and schools foundation director Steve Vogt. Nelson and Vogt also serve on the MRCF board.
The grants aim to enhance and build stronger communities in the Meramec Region, and MRCF board members chose the recipients from a total of 11 applicants.
For more information about MRCF, contact Maria Bancroft at mbancroft@meramecregion.org.