Maries County volunteers, community organization honored at MRPC annual dinner in Salem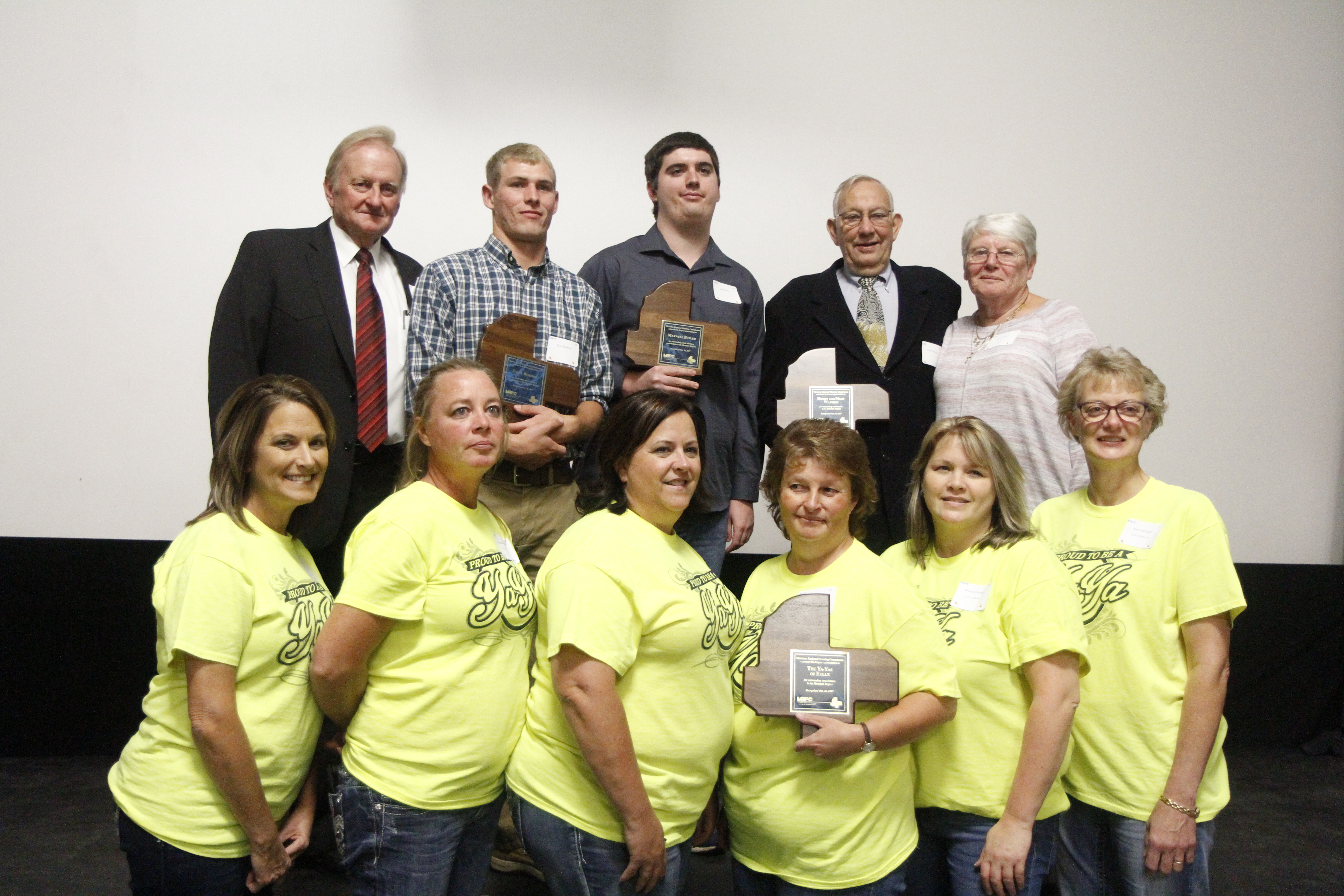 ST. JAMES—Four Maries County volunteers and one community organization were honored for their volunteer efforts during Meramec Regional Planning Commission's (MRPC) annual dinner on Oct. 26 at the Salem Community Center @ the Armory in Salem. This year, Maxwell Butler of Vichy, Tyler Roberds of Meta, Henry and Mary Wansing of Vienna and the Ya Ya's of Belle were honored for their outstanding community service at MRPC's 2017 Annual Dinner Oct. 26 at the Salem Community Center @ the Armory in Salem, MO.  Six other individuals were honored at the dinner as well.
Each year, Meramec Regional Planning Commission (MRPC) honors residents of the Meramec Region who give to their communities by volunteering their time, talents and support. MRPC's External Relations Committee selects award winners, after being nominated by an MRPC board member.
Butler and Roberds were honored as outstanding youth volunteers.
Butler, son of Tom and Lisa Butler, was nominated by Mayor of Belle Steve Vogt. Butler is very active with the Maries County R-2 school and his church in Belle. As a member of the Future Business Leaders of America (FBLA), National Honor Society (NHS), and Future Farmers of America (FFA), Butler works on many service projects that benefit the community. He participated in a First Christian Church mission trip to do home renovations for a low-income family and worked on the renovation at the church.
Roberds, son of Tommy and Carrie Roberds, was nominated by MRPC Chairman and Maries County Presiding Commissioner Ray Schwartze. A senior at Maries R-1 in Vienna, Roberds participates in student council, FFA, and is extremely active in both baseball and basketball. With FFA, Roberds serves as a "Big Dog" in the FFA Big Dog/Little Dog program, where seniors help incoming freshman and guide, advise and mentor them through their classes and events. During the summer and on weekends, Roberds works as a farm hired hand, working sometimes 60 hours a week.
Henry "Hank" and Mary Wansing, also nominated by Schwartze, were honored as outstanding volunteers for their work with the Maries R-1 School in Vienna, their church and local chapter of the Knights of Columbus. Both go out of their way to help those in the community, especially children. Hank volunteers to help teach, mentor and be a positive influence to students in the Missouri Options program which he helps teach. Mary, a school nurse for 19 years, volunteers anywhere the school needs her and coordinated the giving tree program at the school to ensure families were able to provide a decent Christmas for their children. Mary also began a cancer support group in Vienna. Schwartze said, these are two caring individuals that are great people to know.
The Ya Ya's of Belle were honored as an outstanding organization for the service they provide the community of Belle and individuals in surrounding areas. They were also nominated by Vogt. The Ya Ya's is a non-profit organization made up of 23 members who come together to raise money for various organizations and individuals with varying issues or chronic health conditions. They have raised over $150,000 over the past 10 years and impacted 177 lives with financial gifts. Aside from doing various fundraisers, The Ya Ya's spearheaded the 2017 community Easter Egg Hunt, providing 3,700 eggs and prizes for four different age groups – as well as food for the event. Cindy Butler of Belle serves as president of The Ya Ya's.
Other individuals recognized by MRPC for contributions to their communities were:
Bill Reynolds of Loose Creek, nominated by MRPC Board Member Dr. Don Claycomb;
Sean Wilson of Waynesville, nominated by Waynesville Mayor Luge Hardman;
Neil Richards (posthumously) of Potosi, nominated by Caledonia Chairman John M. Robinson III.
Youth Volunteer:
Baylee Bilyeu, daughter of Kim and Greg Wilson of Salem, nominated by Dent County Presiding Commissioner Darrell Skiles;
Local Agency Representative:
City Administrator Harold Selby of St. James, nominated by Mayor of St. James Jim White.
The Eugene E. Northern award, the highest honor given by MRPC for volunteers and community service, was given to Dr. Ted Ziske, 91, of Salem nominated by Dent County Presiding Commissioner Darrell Skiles. Dr. Ziske is a World War II Navy veteran, who has maintained his dental license and served the Salem area since 1954.
Meramec Regional Development Corporation's (MRDC) Lender of the Year award was given to First State Community Bank. Don Thompson accepted the award on its behalf. First State Community Bank was honored for partnering with MRDC on a Small Business Administration 504 loan that provided financing for the construction of B&M Quick Stop in Mineral Point in Washington County.
Two staff members were also recognized at the 2017 awards banquet. Jodie Branson, an accountant II with MRPC, received her award for 10 years of service. Ryan Dunwoody, environmental programs specialist, was honored as MRPC's employee of the year. Dunwoody joined MRPC in 2015 and works on many programs including hazard mitigation plans, commodity flow studies, environmental reviews, produces maps for a variety of plans and is involved in special disaster planning projects among other things.
The night included a reception that began at 5:30 featuring Red Moose Vineyards and music by Alter-K-Shon. Progressive Ozark Bank, Bank of Salem and Riverways Federal Credit Union sponsored the reception. A silent auction, which raised over $1,713 to offset the costs of the dinner, was held during the reception hour. Some 170 individuals were in attendance at the dinner, catered by Country Seasons Catering.
"Our Annual Dinner is the highlight of our year, as our board takes great pleasure in honoring some very deserving volunteers across our region, recapping some of the great projects that have occurred in our communities and taking a look at the contributions MRPC, as an organization, has made to our cities and counties," said Bonnie Prigge, MRPC executive director.
"We really appreciate the hospitality, provided by the city of Salem and Dent County, our hosts, and a special thank you to Sherry Lea and Healthy Dent County for all their hard work to deliver a top-notch location for our evening," Prigge said. "The support from local residents was amazing. It was certainly a great evening."
Formed in 1969, MRPC is a voluntary council of governments serving Crawford, Dent, Gasconade, Maries, Osage, Phelps, Pulaski and Washington counties and their respective cities. A professional staff of 22, directed by the MRPC board, offers technical assistance and services, such as grant preparation and administration, housing assistance, transportation planning, environmental planning, ordinance codification, business loans and other services to member communities.
To keep up with the latest MRPC news and events, visit the MRPC website at www.meramecregion.org or on Facebook at www.facebook.com/meramecregion/.