Guaranty Bank honored as 2023 Lender of the Year at MRPC annual dinner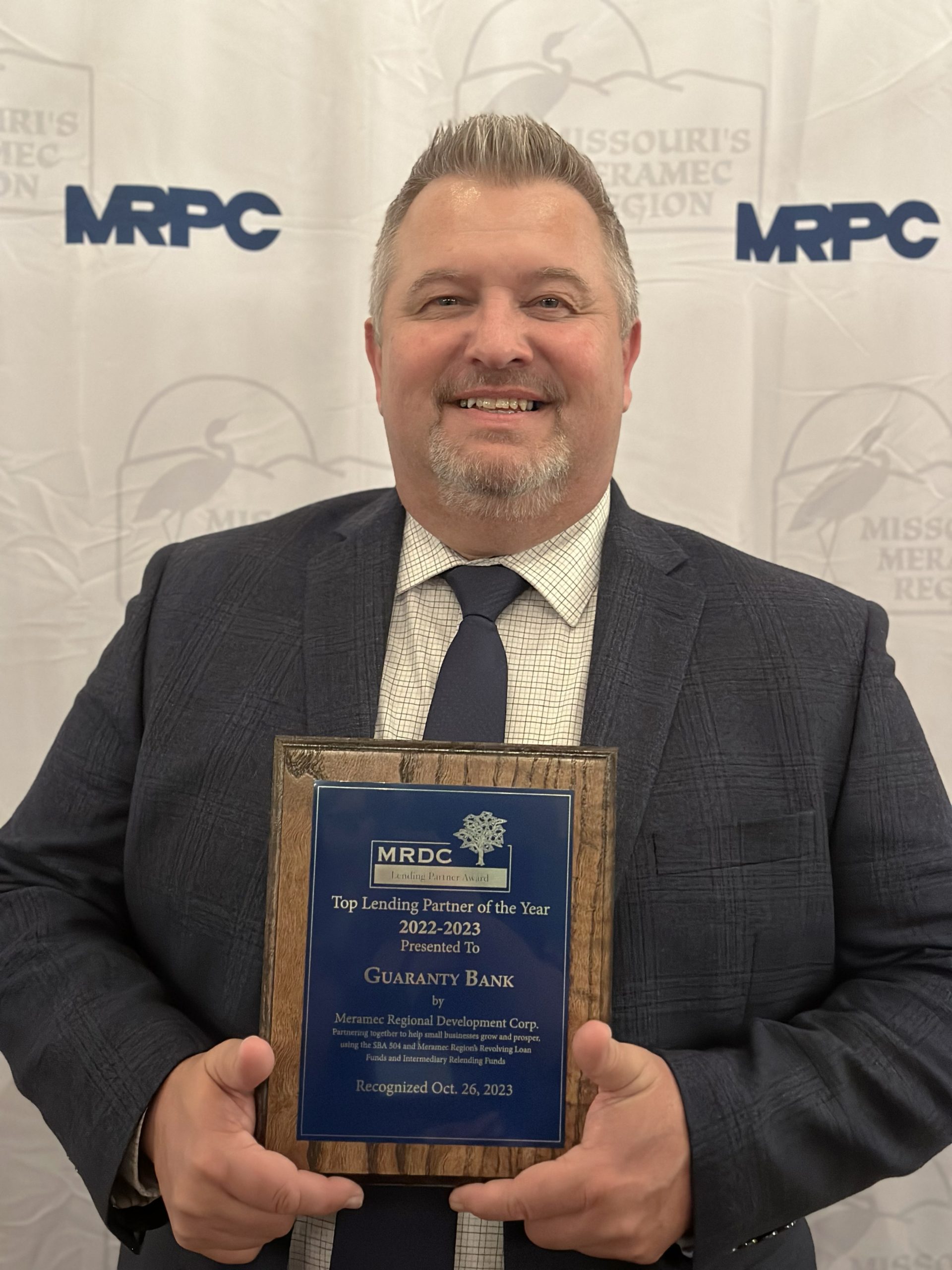 ST. JAMES— Guaranty Bank was honored as the 2023 Lender of the Year by the Meramec Regional Development Corporation (MRDC) for its partnership efforts to bring jobs and private investment to the Meramec Region. Tim Seams, vice president and commercial relationship manager, accepted the award on behalf of the bank. Maria Bancroft, with Meramec Regional Planning Commission (MRPC), made the presentation at MRPC's 2023 Annual Dinner and Awards Banquet, held Oct. 26 at the Festhalle in Hermann. 
MRDC, in conjunction with Guaranty Bank, was able to assist PR Joplin, LLC, dba Pizza Ranch in Joplin and Croft Wilson Properties, LLC, dba Croft Bedding Company, LLC in Webb City with business expansion loans using the SBA 504 program. The projects created and retained 75 jobs for Missouri.
Guaranty Bank began in 1913 with its first branch opening in Springfield, Mo. In 2022, Guaranty Bank was purchased by QCR Holdings, Inc. to expand its existing market area in Missouri with branches in Iowa and Illinois with their three main bank entities, Quad City Bank & Trust, Cedar Rapids Bank & Trust, Community Bank & Trust, and Community State Bank. Guaranty Bank offers customers products and services with traditional banking, correspondent banking, wealth management and specialty finance. Prior to joining Guaranty Bank, Tim was a banker in the Meramec Region and served on MRDC, including time as president of MRDC.
MRDC, an SBA Certified Development Company, partners with local banks to provide gap financing with the SBA 504 program. MRDC also serves as a loan review board for MRPC – owned revolving loan funds. MRPC provides the staffing for MRDC.
For more information on MRPC's small business loans program, contact MRPC at 573-265-2993.
Formed in 1969, MRPC is a voluntary council of governments serving Crawford, Dent, Gasconade, Maries, Osage, Phelps, Pulaski and Washington counties and their respective cities. Mary Heywood, representing the unemployed, serves as chair of the board. A professional staff of 30 offers technical assistance and services, such as grant preparation and administration, housing assistance, transportation planning, environmental planning, ordinance codification, business loans and other services to member communities.
To keep up with the latest MRPC news and events, visit the MRPC website at www.meramecregion.org or on Facebook at www.facebook.com/meramecregion/.
-30-
Cutline: Tim Seams, vice president and commercial relationship manager with Guaranty Bank, accepted the Lender of the Year Award on behalf of Guaranty Bank at MRPC's Annual Dinner and Awards Banquet held Oct. 26 at the Festhalle in Hermann.