First State Community Bank honored as Lender of the Year at MRPC annual dinner in Salem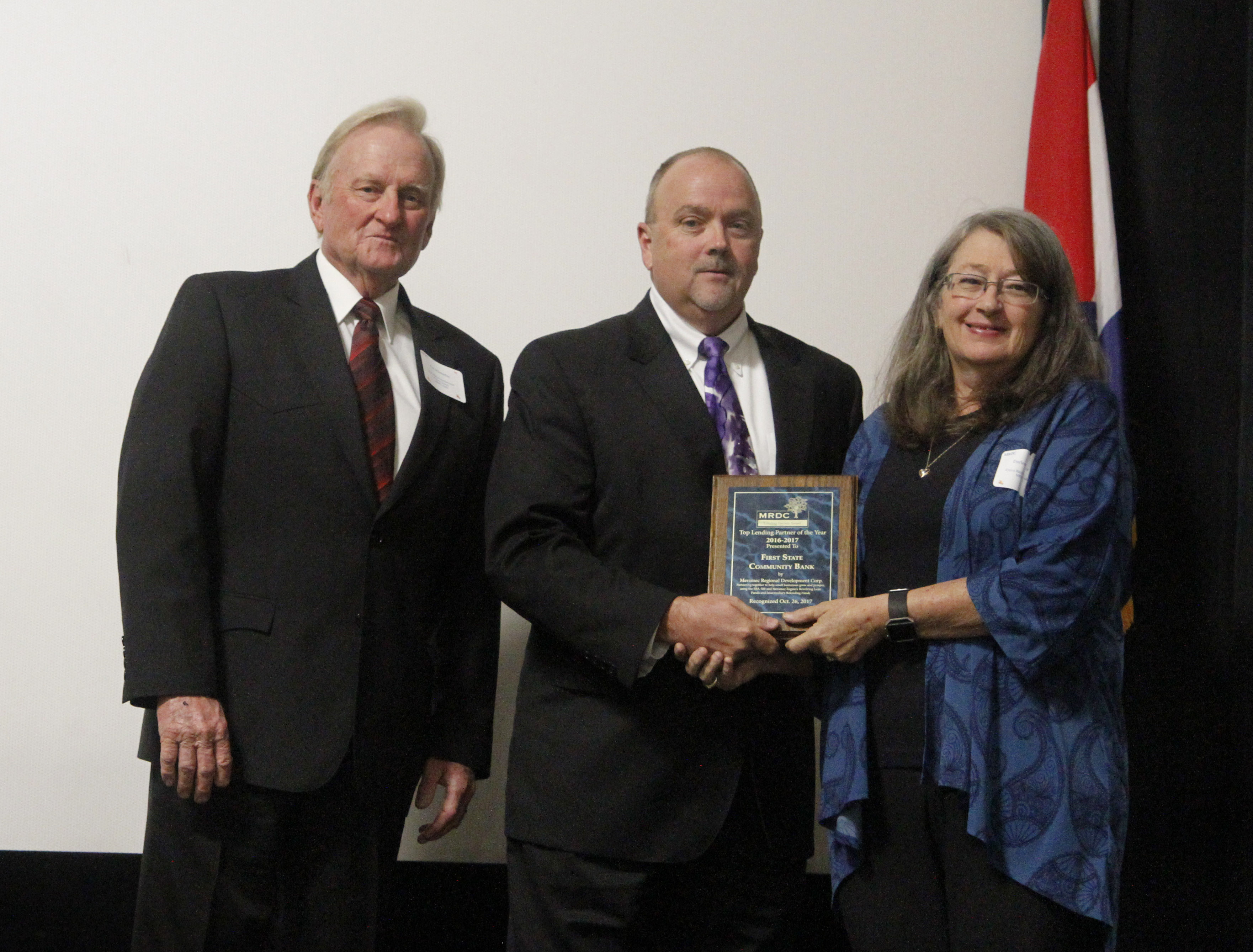 For immediate release

For more information, contact
Maria Bancroft at (573) 265-2993
ST. JAMES—First State Community Bank was honored as the Lender of the Year by the Meramec Regional Development Corporation (MRDC) for its partnership efforts to bring jobs and private investment to the Meramec Region.  Donald Thompson, president of First State Community Bank (FSCB), accepted the award at Meramec Regional Planning Commission's (MRPC) 2017 Annual Dinner Oct. 26 at the Salem Community Center @ the Armory in Salem, MO.  Darlene Weber, president of MRDC, made the presentation.
FSCB and MRDC, in partnership with the U.S. Small Business Administration, partnered on financing of the B&M Quick Stop, a new convenience store, gas station and truck stop in Mineral Point, MO, in Washington County. The new business, owned and operated by Betty and Micheal Nixon employs five full-time people and is open 24-7.
First State Community Bank was founded in 1954 in Farmington as First State Bank. The company celebrated its 50th year of service in 2004. First State Community Bank is well-known and respected in the communities it services. It reached $1 billion in assets in 2010, making it the largest banking organization headquartered in Southeast Missouri with over 50 locations across Missouri.
MRDC, an SBA Certified Development Company, partners with local banks to provide gap financing for the SBA 504 program. MRDC also serves as a loan review board for MRPC – owned revolving loan funds. MRPC provides the staffing for MRDC.
For more information on MRPC's small business loans program, contact Maria Bancroft at 573-265-2993 or at mbancroft@meramecregion.org.
Formed in 1969, MRPC is a voluntary council of governments serving Crawford, Dent, Gasconade, Maries, Osage, Phelps, Pulaski and Washington counties and their respective cities. A professional staff of 22, directed by the MRPC board, offers technical assistance and services, such as grant preparation and administration, housing assistance, transportation planning, environmental planning, ordinance codification, business loans and other services to member communities.
To keep up with the latest MRPC news and events, visit the MRPC website at www.meramecregion.org or on Facebook at www.facebook.com/meramecregion/.