Espresso Laine – A coffee shop focused on community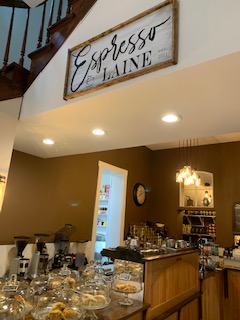 HERMANN—At its new location at 100 Schiller street, directly across from the trolley, Espresso Laine has reopened its doors to the Hermann community. After seeking help from the Meramec Regional Planning Commission's (MRPC) small business loan program, Elaine Landolt, owner and operator, says the shop is located at one of the best locations in the city.
Landolt opened Espresso Laine in 2011 after purchasing the business previously known as Kaffee Haus, which she managed for five years. Employing 12 part-time employees and one full-time employee, her vision is a coffee shop that offers more than just coffee. The current shop boasts products, such as coffee beans, mugs, cups, scoops and tea pots, but also offers a toy store with specialty products like Melissa and Doug toys, educational games, old fashion wooden toys and stuffed animals all made within the United States. They have plans to renovate the upstairs into a bed and breakfast after the coffee shop is up and running.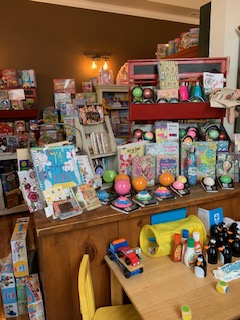 Landolt works with a local bakery, Hummingbird Kitchen, to offer muffins, cookies, cake bombs, scones and more. The coffee is supplied through a local roaster, and the shop uses local dairy products from Central Dairy.
"We're locally owned, with local food products being served," Landolt said. "We are all about the local business. It's a community place for people to come and sit and be comfortable and relax. It's really just for the community."
Landolt and MRDC partnered with Missouri Bank of Hermann and loan officer Kathy Schlottach-Brandt.
"The process was a little bit more than I expected," Landolt said. "It was a learning experience for me. I had never done anything like this. I think the process went very well because of who I worked with."
For more information on what Espresso Laine has to offer, find them at www.espressolaine.com or follow them on Facebook at https://www.facebook.com/espressolaine.
The IRP program provides gap financing to small businesses to encourage conventional bank participation. Program eligibility includes the ability to create and retain jobs, borrow between $20,000 and $100,000 for up to 40% of the total project and hire low to moderate income individuals.
For more information on MRPC's small business loans program, contact Maria Bancroft at 573-265-2993 Ext. 114 or at mbancroft@meramecregion.org. Interested individuals may access MRDC's loan application and checklist at https://www.meramecregion.org/mrpc-programs-and-services/business-loans/.
Formed in 1969, MRPC is a voluntary council of governments serving Crawford, Dent, Gasconade, Maries, Osage, Phelps, Pulaski and Washington counties and their respective cities. Gasconade County Presiding Commissioner Larry Miskel serves as chairman of the board. A professional staff of 27 offers technical assistance and services, such as grant preparation and administration, housing assistance, transportation planning, environmental planning, ordinance codification, business loans and other services to member communities.
To keep up with the latest MRPC news and events, visit the MRPC website at www.meramecregion.orgor on Facebook at www.facebook.com/meramecregion/.
-30-