Duke Rural Fire Department receives $250 community grant for new building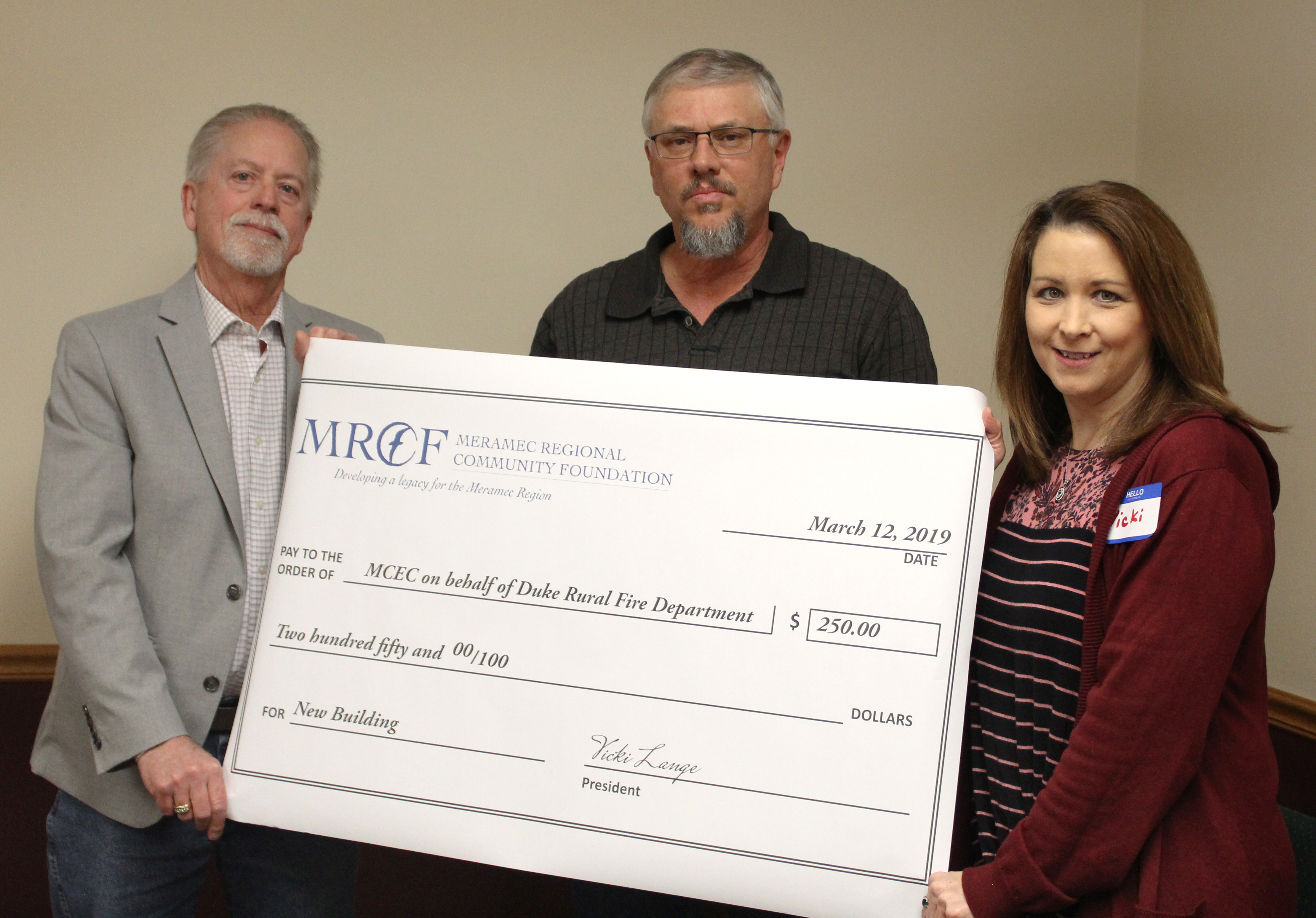 ST. JAMES—Meramec Regional Community Foundation (MRCF) awarded Meramec Community Enhancement Corporation a $250 grant for the benefit of Duke Rural Fire Department and its project to build a new building. The check was presented at MRCF's invite-a-friend luncheon March 12 at MRPC in St. James. This year, the MRCF board reviewed a total of 18 grant applications, requesting a total of $4,414.21 and representing projects in Crawford, Dent, Maries, Osage, Phelps, Pulaski and Washington counties. The Duke Rural Fire Department was one of six projects selected for funding.
Duke Rural Fire District plans to use the funds from the MRCF grant to help purchase building material. The small size of its existing structure makes it difficult for the small department to maintain and preserve its fire fighting vehicles and equipment. The new building will give the department a place to keep its vehicles under cover and better care for them, increasing response times and adding life to the vehicles currently owned. Firefighters have been delayed responding to emergencies due to weather conditions that inhibit immediate operation of vehicles. For example, the departments pumper cannot be filled in the winter due to freeze threat and must be filled prior to arriving on scene at a fire adding significantly to response time. The new station would allow the department to protect its fleet of vehicles and access them more efficiently.
"This donation means movement in the positive direction towards our goal of housing all of our fire trucks by the end of this year," Ron Simpson with the Duke Rural Fire Department said. "We are very appreciative of any donation that helps us reach our goal."
The Duke Rural Fire Department covers a very broad, rural area of southern Phelps and Pulaski counties – an approximately 86 square mile area.
Those also wishing to contribute to the Duke Rural Fire Department's project, can visit www.gofundme.com/duke-rural-fire-department or contact Duke Rural Fire Department Fire Chief Ron Wyatt.
Other recipients, receiving $250, include:
The Ozark Actors Theatre of Rolla for its Summer Theatre Academy,
Richwoods R-VII School District for its after-school snack program,
Belle Elementary School for coats and shoes for students in need,
Osage County R-I School District at Chamois for its Pirate Tinkerlab, and
The Bourbon Boosters for ramps for the stage in the park.
MRCF is an outgrowth of the Meramec Regional Planning Commission (MRPC) and is an affiliate of Community Foundation of the Ozarks (CFO) in Springfield. The regional affiliate was formed in 2010. Its 12-member board includes representation from each of the eight Meramec counties and from MRPC. Vicki Lange of Osage County serves as president of MRCF.
Currently, MRCF has 54 funds totaling over $2.83 million.
CFO is a public foundation serving the Missouri Ozarks. The foundation's mission is to enhance the quality of life in the region through resource development, community grant-making, collaborations and public leadership. Formed in 1973, CFO has since grown to include 49 affiliate community foundations and more than 3,700 charitable funds totaling approximately $300 million in assets, as of June 30, 2018.
MRPC, in addition to establishing the regional foundation and providing the initial investment to create a grant program, provides staff support to MRCF.
Formed in 1969, MRPC is a voluntary council of governments serving Crawford, Dent, Gasconade, Maries, Osage, Phelps, Pulaski and Washington counties and their respective cities. Gasconade County Presiding Commissioner Larry Miskel serves as chairman of the board. A professional staff of 25 offers technical assistance and services, such as grant preparation and administration, housing assistance, transportation planning, environmental planning, ordinance codification, business loans and other services to member communities.
To keep up with the latest MRPC news and events, visit the MRPC website at www.meramecregion.orgor on Facebook at www.facebook.com/meramecregion/.
-30-
Cutline: Phelps County Associate Commissioner Gary Hicks with Meramec Community Enhancement Corporation and Ron Simpson with the Duke Rural Fire Department accept the 'big' check and the real check from MRCF Chair Vicki Lange.