Dent County Community Foundation receives $250 for clean-up, beautification project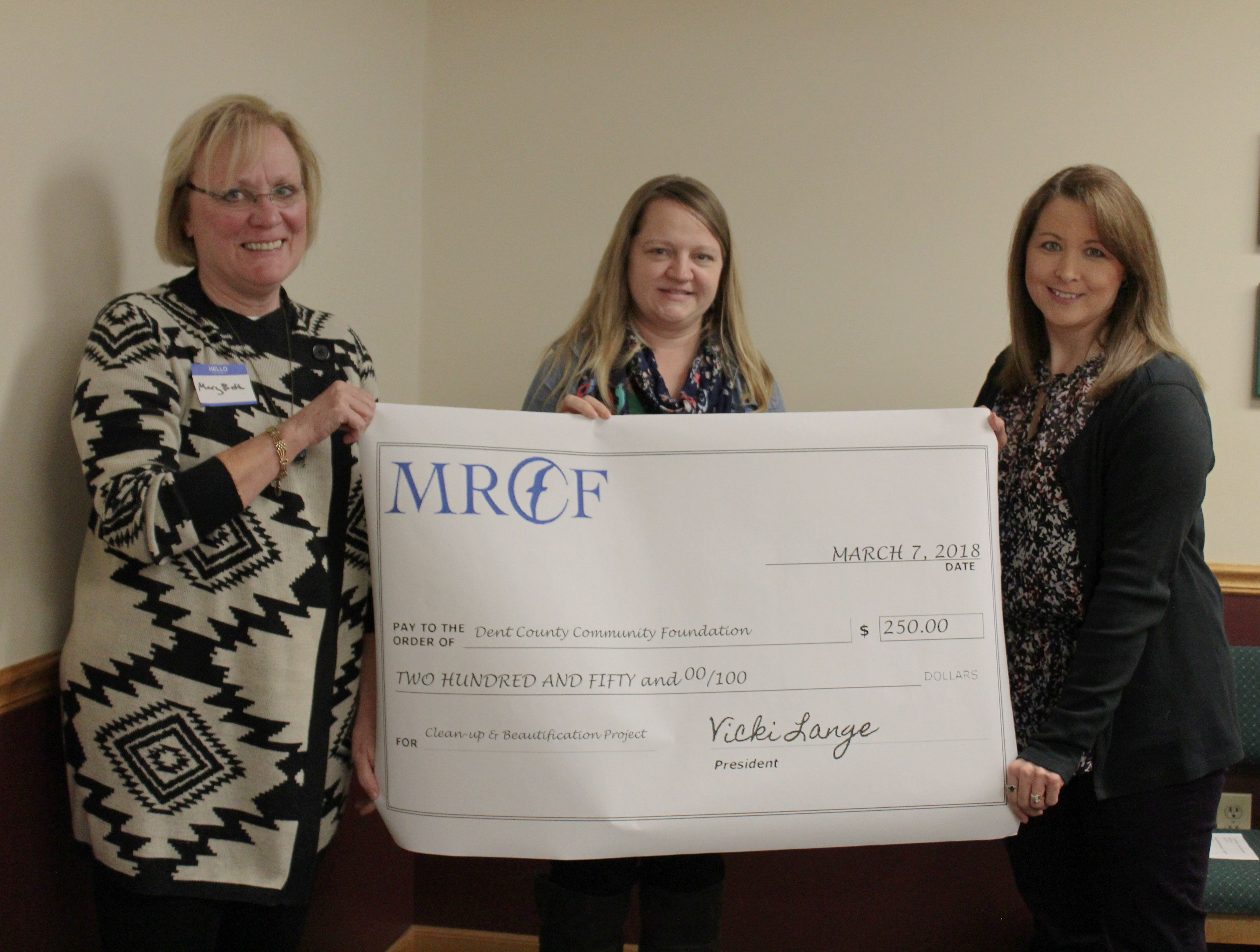 ST. JAMES—Meramec Regional Community Foundation (MRCF) awarded Dent County Community Foundation a $250 grant for its clean-up and beautification project. The check was presented at MRCF's invite-a-friend luncheon March 7 at #4 Industrial Drive, St. James. This year, the MRCF board reviewed a total of 21 grant applications requesting a total of $5,500 and representing projects in Crawford, Dent, Gasconade, Maries, Osage, Phelps, Pulaski and Washington counties. Dent County Community Foundation was one of six projects selected for funding.
The Dent County Community Foundation plans to use the grant funds to purchase tools for clean-up and beautification projects. Through I Heart Salem, which the community foundation is hosting under its umbrella of Growth in the Rural Ozarks, these projects have been completed by the volunteers bringing their own tools. The committee has found that it would be more effective if they had a set of tools that could be regularly used for these projects.
"I Heart Salem is working to help clean up the appearance of Salem, connecting volunteers and leveraging resources, and building pride in our community," Sarah Massengale, MU Extension community development specialist, said. "In the first year of the project, volunteers have done several cleanup projects picking up trash around town, helped a homeowner remove a broken fence and clean up her yard, and are currently assisting a homeowner to scrape and repaint the window trim and porch on her house. Long-term, the I Heart Salem project hopes to build stronger neighborhood connections, encourage neighborhood block parties, and improve the appearance and quality of our housing in our community. We appreciate the support of MRCF to this project, to help us continue beautifying our community and building new networks between residents and volunteers!"
The Salem Initiative, an online community for volunteers, supporters and other stakeholders interested in improving Salem, is matching the $250 grant.
Other recipients, receiving $250, include:
Art Works on Main Gallery in Owensville for an art room renovation,
Caledonia Community Foundation in Washington County for village park improvements,
The Ya Ya's of Belle in Maries County for park and arena renovations,
University of Missouri Extension – Crawford County for an artist and farmer rendezvous project, and
CASA of South Central Missouri for a recruitment event in Maries County.
MRCF is an outgrowth of the Meramec Regional Planning Commission (MRPC) and is an affiliate of Community Foundation of the Ozarks (CFO) in Springfield. The regional affiliate was formed in 2010. Its 12-member board includes representation from each of the eight Meramec counties and from MRPC. Vicki Lange of Osage County serves as president of MRCF.
Currently, MRCF has 59 funds totaling over $1.39 million.
CFO is a public foundation serving the Missouri Ozarks. The foundation's mission is to enhance the quality of life in the region through resource development, community grant-making, collaborations and public leadership. Formed in 1973, CFO has since grown to include 49 affiliate community foundations and more than 3,200 charitable funds totaling approximately $285 million in assets, as of June 30, 2017.
MRPC, in addition to establishing the regional foundation and provided the initial investment to create the grant program, provides staff support to MRCF.
Formed in 1969, MRPC is a voluntary council of governments serving Crawford, Dent, Gasconade, Maries, Osage, Phelps, Pulaski and Washington counties and their respective cities. A professional staff of 23, directed by the MRPC board, offers technical assistance and services, such as grant preparation and administration, housing assistance, transportation planning, environmental planning, ordinance codification, business loans and other services to member communities.
Anyone wishing to make a donation to MRCF for its grant making efforts or interested in establishing their own fund can contact Maria Bancroft at MRCF at mbancroft@meramecregion.org or by phone at 573-265-2993 Ext. 114.
To keep up with the latest MRPC news and events, visit the MRPC website at www.meramecregion.org or on Facebook at www.facebook.com/meramecregion/.
-30-
Photo: Mary Beth Cook (left), Dent County Community Foundation Coordinator, and Sarah Massengale with University of Missouri Extension accept the 'big' check and the real check from MRCF Chair Vicki Lange on behalf of the community foundation.