Bourbon Boosters receives $250 community grant for accessibility upgrades to park stage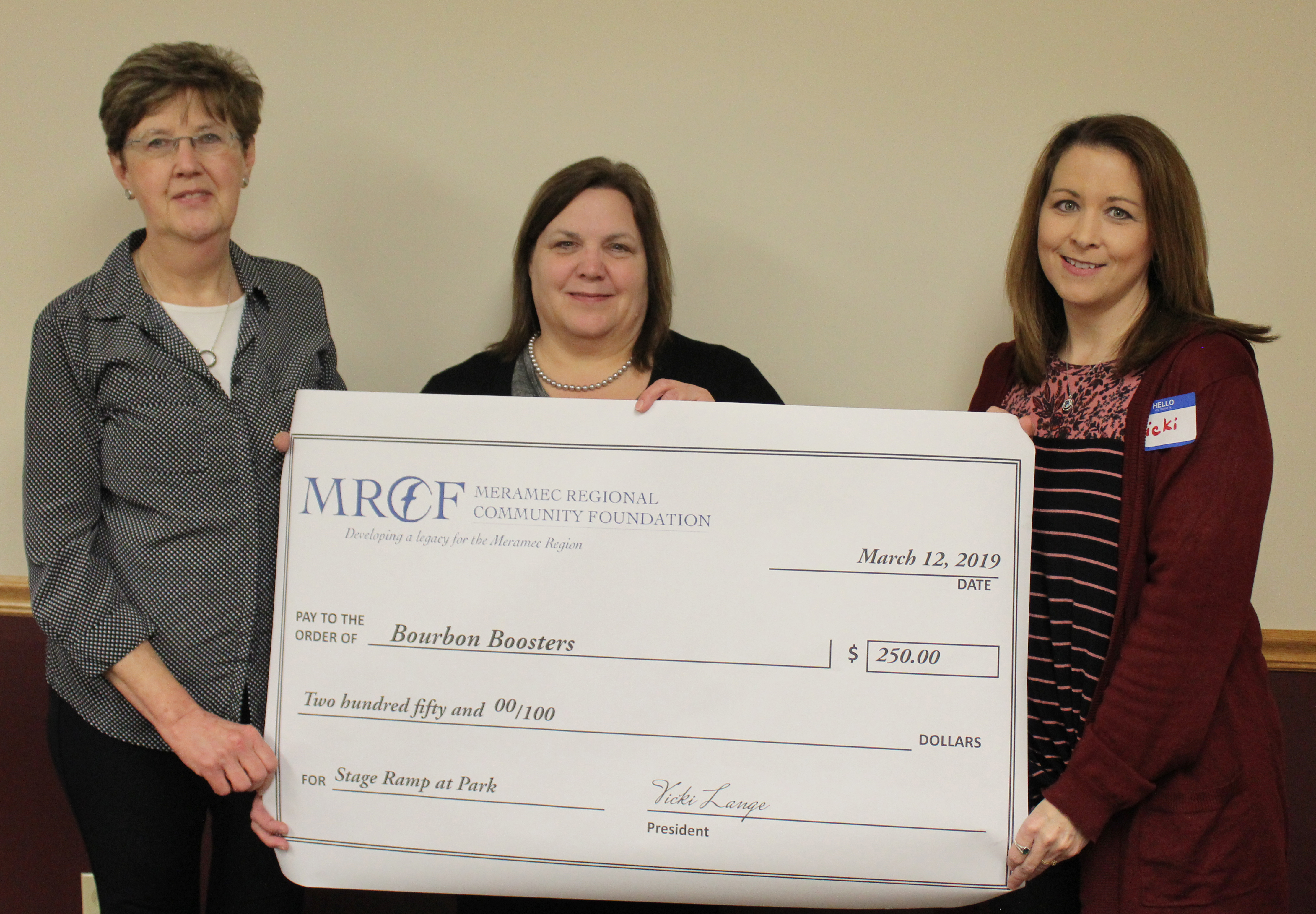 ST. JAMES—Meramec Regional Community Foundation (MRCF) awarded the Bourbon Boosters a $250 grant for its project to upgrade the accessibility a stage in Bourbon park. The check was presented at MRCF's invite-a-friend luncheon March 12 at MRPC in St. James. This year, the MRCF board reviewed a total of 18 grant applications, requesting a total of $4,414.21 and representing projects in Crawford, Dent, Maries, Osage, Phelps, Pulaski and Washington counties. The Bourbon Boosters was one of six projects selected for funding.
The Bourbon Boosters partnered with the city of Bourbon to build a stage in the downtown festival park in 2018. However, the stage was unfinished and required a ramp to be ADA compliant. A permanent stage at Festival Park in Bourbon has resulted in more community groups using the park for activities. The city of Bourbon agreed to build the ramp and finish the stage if the Bourbon Boosters could supply the materials, which they plan to use the $250 MRCF grant to help with.
"The Bourbon Booster Club truly appreciates the MRCF grant we recently received to help fund the completion of our stage in Festival Park," said Alice Bremer, secretary of the Bourbon Boosters. "It will mean much to the community and will be used by people of all ages. The grant will help us make the stage handicap compliant so users with disabilities may be about to use it comfortably. The grant will also help us to install lattice work around the lower part, paint, and complete other small tasks and decorations."
Other recipients, receiving $250, include:
The Ozark Actors Theatre, Rolla, for its Summer Theatre Academy,
Richwoods R-VII School District for its after-school snack program,
Belle Elementary School for coats and shoes for students in need,
Osage County R-I School District at Chamois for its Pirate Tinkerlab, and
Meramec Community Enhancement Corporation on behalf of Duke Rural Fire Department for a new building.
MRCF is an outgrowth of the Meramec Regional Planning Commission (MRPC) and is an affiliate of Community Foundation of the Ozarks (CFO) in Springfield. The regional affiliate was formed in 2010. Its 12-member board includes representation from each of the eight Meramec counties and from MRPC. Vicki Lange of Osage County serves as president of MRCF.
Currently, MRCF has 54 funds totaling over $2.83 million.
CFO is a public foundation serving the Missouri Ozarks. The foundation's mission is to enhance the quality of life in the region through resource development, community grant-making, collaborations and public leadership. Formed in 1973, CFO has since grown to include 49 affiliate community foundations and more than 3,700 charitable funds totaling approximately $300 million in assets, as of June 30, 2018.
MRPC, in addition to establishing the regional foundation and providing the initial investment to create a grant program, provides staff support to MRCF.
Formed in 1969, MRPC is a voluntary council of governments serving Crawford, Dent, Gasconade, Maries, Osage, Phelps, Pulaski and Washington counties and their respective cities. Gasconade County Presiding Commissioner Larry Miskel serves as chairman of the board. A professional staff of 25 offers technical assistance and services, such as grant preparation and administration, housing assistance, transportation planning, environmental planning, ordinance codification, business loans and other services to member communities.
To keep up with the latest MRPC news and events, visit the MRPC website at www.meramecregion.orgor on Facebook at www.facebook.com/meramecregion/.
-30-
Cutline: Becky Turner and Carol Hofstetter (left to right) of the Bourbon Boosters accept the 'big' check and the real check from MRCF Chair Vicki Lange.