Business Loans
Businesses looking to start up or expand in the Meramec Region will find an abundance of financing tools – ranging from loans to tax credits – to assist them along the way.
Click to jump to the Financial Resource you are interested in:
Small Business Administration (SBA) 504 Loan Program
This loan program assists medium-sized new and expanding businesses with projects involving fixed assets, such as land, buildings machinery and equipment. Total project maybe from $125,000 and up.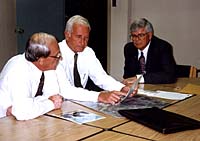 The applicant must participate with a private lender. Typical loans require at least 10 percent investment by the applicant, 50 percent by the private lender and the remaining 40 percent (or a maximum of $1,300,000) by SBA. The SBA portion of the 504 loan will be at a fixed rate for a fixed term, up to 20 years depending on the use of proceeds. One job per $50,000 loaned ($65,000 for rural) must be created or retained or must meet other economic goals. SBA loan applications are prepared by the MRPC staff.
Contact: Maria Bancroft, Meramec Regional Development Corp., 4 Industrial Drive, St. James, MO 65559 at 573-265-2993. 
Meramec Regional Development Corporation Revolving Loan Fund
This is a local fund designed to provide loan money to small businesses in Crawford, Dent, Gasconade, Maries, Phelps, Pulaski and Washington counties in order to induce private lenders' participation in projects that will retain or create employment. The Revolving Loan Fund can provide up to 40 percent of the funding or a maximum of $160,000, with a private lender and the applicant supplying the remainder. One job must be created or retained for each $20,000 of RLF requested. Loan applications are prepared and serviced by the MRPC staff.
Contact: Maria Bancroft, Meramec Regional Development Corp., 4 Industrial Drive, St. James, MO 65559 at 573-265-2993.
Missouri Action Funds Loan
This is a state loan program designed to provide low-interest "gap" financing for industrial projects. Successful grant applications have been prepared by MRPC staff.
Contact: Connie Willman, Meramec Regional Development Corp., 4 Industrial Drive, St. James, MO 65559 at 573-265-2993.
Municipal Bonds for Industrial Development
Both general obligation and revenue bonds can be used for industrial development in Missouri. Ad valorem tax advantages may be gained by using bonds issued by municipalities. Municipal bonds are typically issued through local Industrial Development Authorities. 
For a pop-up listing of IDAs, click here.
Rural Business—Cooperative Services
This program guarantees loans by eligible local lenders to businesses that benefit rural areas through creation and maintenance of employment. Priority is given to applications for loans in rural communities of 25,000 or less population. Maximum guarantee is limited to $10 million.
Contact: USDA Rural Development at the following local offices:
Mark Dethrow (Osage County), Kelly Gregory (Maries and Gasconade Counties) ; and Donna R. Martin (Crawford, Dent, Phelps, Pulaski and Washington County), .
Resource Missouri Inc. Microloan Program
This program provides loans up to $35,000 for start-ups, newly established and growing small business concerns. Loan funds can be used for working capital, inventory, supplies, furniture, fixtures, machinery and /or equipment. No capital injection is required. Ongoing technical assistance is provided to borrowers at no cost.
Contact: Rural Missouri Inc., 1-800-234-4971.
Associated Electric's Rural Development Link Deposit Program
The program, offered by Associated Electric Cooperative, Inc., is designed to reduce the interest rate businesses pay on bank-approved loans. Electric cooperative effectively "buy down" rates on these loans by placing long-term deposit with the lender equal to the loan amount. As a result, companies can borrow up to $75,000 for five years at only 7 percent. The cap on interest saves your company thousands of dollars over the term of the loan. Eligible companies must be in the AECI service area and involved manufacturing, distribution, assembly and warehousing operations.
Contact: Tony Floyd, Intercounty Electric Cooperative, P.O. Box 209, Licking, Mo. 65542-0209, Phone: 573-674-2211

Enterprise Zone Tax Credit Programs
Five areas in the Meramec Region have been designated as state enterprise zones. By locating or expanding in these zones, businesses can realize thousands of dollars in tax and training credits. Firms in an enterprise zone may be eligible for: 
For a pop-up listing of Enterprise Zones, click here.
Improvements to real property would receive a minimum 50 percent local abatement of Ad Valorem (property) taxes for at least 10 years.
Missouri Agricultural and Small Business Development Authority
Beginning Farmer Loan Program, Animal Waste Treatment System Loan Program, Single-Purpose Animal Facilities Loan Guarantee Program, Missouri Value-Added Grant Program: These programs provide a variety of loan, loan guarantees and grant programs for agribusiness pursuits.
Contact: Missouri Agriculture and Small Business Development Authority, P.O. Box 630, 1616 Missouri Blvd., Jefferson City, Mo. 65102-0630, (573)751-2129.
Missouri First Linked Deposit
This program facilitates a lower interest rate on loans to approved businesses. Eligible businesses include new, existing or expanding firms that annually employ at least 10 full-time employees. Maximum deposit is $5 million per project.
Contact: Missouri State Treasurer's Office, P.O. Box 210, Jefferson City, Mo. 65102, 573-751-2372.